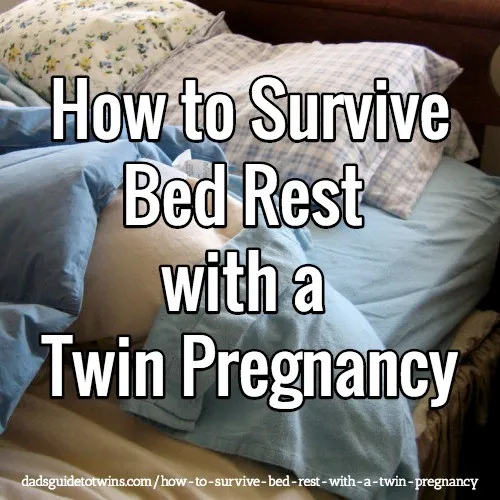 A twin pregnancy is significantly more likely to result in bed rest for the mother. After all, Mom is carrying two babies and will not only be uncomfortably large as the pregnancy progresses, but is at higher risk for other pregnancy complications. However, bed rest with twins doesn't have to be the end of the world.
My wife's modified bed rest required that she stay off her feet for several hours everyday during the end of our twin pregnancy.
The key to helping your wife survive bed rest during your twin pregnancy is to identify everything she does during the day and find a substitute.
Dad, you have an important role in helping Mom survive bed rest. Here are some ideas to make bed rest during the twin pregnancy go more smoothly:
Child Care
As a stay at home mom, my wife's primary responsibility during the day was to care for our two preschool boys. To help alleviate the toll of child care, we called in helpers every afternoon. We had friends with similar aged kids come over to play with our boys. We paid a baby sitter on some days to play with our sons while my wife rested.
Every day there was a certain block of time scheduled where my wife could rest with her feet up and either I or a friend would help watch our other children.
This is a great time to have your other children practice what they're going to need to do when the twins arrive. The siblings already in the house can help with cleaning, cooking, organizing, bringing you stuff, and taking stuff where it needs to go. This is great practice for when the twins actually arrive, or for later stages of pregnancy and bed rest.
Food Preparation
We stocked our freezer with ready-to-cook meals (many received from a freezer meal baby shower). This helped reduce time in the kitchen and let others besides my wife quickly prepare meals for the family.
Our church group also generously brought us meals.
If you can't stock up ahead of time, make a list of all your favorite local food delivery or take-out restaurants.
Cleaning
You'll need to reset your expectations of a clean house with twins. A bed rest pregnancy helps you face that reality even before your twins are born.
During our twin pregnancy, we had friends come over and help clean, paid some teenagers to clean other times, and even had our other kids step up and help out more.
Transportation
If mom is the taxi in your family, you'll need a different driver. Consider carpools with others for activities. You may even want to adjust your work schedule if needed so you can pick up kids or run the errands that your wife used to do.
Work
Working while pregnant with twins is an extra challenge on top of caring for home and family. If your work is more flexible than your wife's job, adjust your schedule to help fill in the gaps discussed above. Encourage your wife to seek alternative work options that allow her to stay off her feet.
Eventually, the time will come to leave work to finish the pregnancy and deliver the babies. Remember that under the Family and Medical Leave Act (FMLA in the United States), both the mother and father can use up to 12 weeks of leave for prenatal and post-pregnancy care. Your company will likely have specific policies on how that time is allocated (vacation vs. sick time or time without pay).
Make Your List
Make a list of everything Mom does during the day around the house, at work, or in the community.
Review the list and decide what can be cut. Yes, a twin pregnancy will require that some activities are dropped until a post-delivery time. With each item, ask, "Does this absolutely have to happen each day?" and "What is the worse that can happen if this doesn't happen?"
Take what is left on the list and write the names of people that can help with those items. It may be you, it may be a neighbor, friend, family member, or help from your church group.
Dad, when your wife is on bed rest with the twins, you must remove as many of her burdens as possible. Consider shouldering her responsibilities with everything she does around the house. You can cook. You can clean. You can take care of the older kids. Look around the house. Is there something that needs to be done? Do it.
Get Mom Comfortable
Bed rest can be boring, uncomfortable, and even miserable for Mom. However, there are things you can do to make the most of bed rest during your twin pregnancy.
I hurt just watching my wife during the later stages of the twin pregnancy. It didn't seem physically possible for her to be carrying two babies and still be able to function. Your wife will be extremely uncomfortable while on bed rest. Do everything you can to make her comfortable. Let her rest. Bring her what she needs. Massage her swollen feet.
What about Hospital Bed Rest?
If your twin pregnancy has severe complications or risks, your doctor may require that you spend your bed rest in the hospital under constant monitoring.
Hospital bed rest is no picnic. Help make the most of any time in the hospital by maintaining as much of a routine as possible, decorating the room (if allowed), and hanging out with friends and family visitors.
How to Get Ready for Your Twins While on Bed Rest
Remember that when people say, "If there is anything I can do to help, just let me know," that is your chance to enlist helpers. These people will be invaluable to you as you deal with bed rest during a twin pregnancy. Don't be afraid to ask for help and commit people to specific things they can do to help you.
If you make your list as outlined above, you'll know exactly where these well-wishers can pick up some slack and help out.
While you're on the couch, make a list of all the people that could help you with your twins. This could be friends, family, neighbors, babysitters, and so on, then start emailing or calling them to commit them to what they can actually do and when they can do it for your family.
We had at least one person staying with us for the first two months with our twins. This was a huge lifesaver. It enabled us to go into a rotation where two of the adults were up at night to care for the twins and one adult was able to rest, and so it made a big difference in actually being able to sleep through the night as a parent. Even if that was once every three nights, it was something to look forward to.
Make Lists, Go Shopping
Make a shopping list of all the baby gear, baby clothes, and baby products that you're going to need, and then take that list and go online and start comparison shopping to find the best products. You can look at the reviews of the products that you're interested in. There's even a Twin Products Essentials Guide here on my website, where I talk about some of the best car seats and strollers and diaper bags and baby gear that you'll need for your twins.
A Chance to Prioritize Before the Twins Come
Look around your house and think about what actually matters. If you're stuck on that couch and not able to do anything around the house – maybe there's a mess, maybe dinner's not being cooked – that's the same scenario you're going to face when the twins arrive and you're having to take care of both the twins. A lot of things are going to fall by the wayside in your house. Now is the time to look around you and see what actually matters and what doesn't, so that when push comes to shove, when the twins are here, you're able to prioritize in real-time and not have to worry about making that decision. Say to yourself, "I know that the mess is going to pile up and the laundry's going to pile up, and that's okay."
Dads: Mom Needs Emotional Support
Empathy – Your wife will be going through something that you'll never experience. Nevertheless, you need to listen to her and share her feelings so you can better support her during this challenging time.
Words – Yes, Dad, you'll need to verbalize your thoughts and feelings in support of your wife. Talk with her and encourage her during the bed rest.
Comfort Items – Your wife will want some things (food, entertainment, etc.) that will help her feel better emotionally. Identify and deliver those comfort items your wife likes.
Manifest in Actions – All the words in the world won't mean a thing if you don't take action and show your wife you mean what you say. Take action and actually serve your wife in her moments of need.
You want your twins to continue growing in the safety of mommy's womb for as long as possible. Do everything you can to let your wife rest and you'll make it through your bed rest during the twin pregnancy and significantly increase your odds of avoiding premature twins or time in the NICU.
Picture by Liz West and Deborah Main