Podcast: Download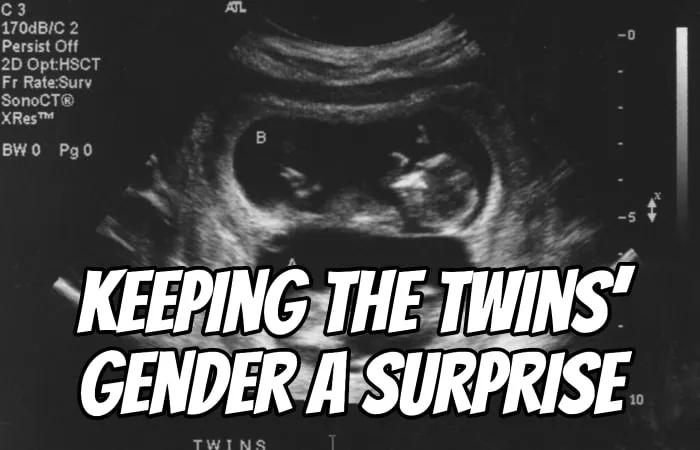 Expectant twin mom Claudia asks, "We're not sure if we're having boys or girls but we want it to be a surprise. How will this affect our preparations for twins?"
In our family's case, my wife and I found out as soon as we could what our twins were so we could make appropriate preparations.
The reality is that if you want to keep the gender of your twins a surprise, it is totally possible. A lot of the preparations that you make for your twins are the same for boys or girls or boy/girl twins.
Here are some things to remember when you want to keep the gender of your twins a secret until birth:
Look the Other Way
One of the challenges that you have in keeping twins a surprise during the pregnancy is that you're going to have a greater number of ultrasounds than you would with a singleton baby. You're going to be in the doctor's office seeing the twins a lot during the pregnancy, and so you may get a peek at identifying features of your babies that reveal it's a boy or it's a girl.
You have to be very cautious during these ultrasound appointments. Make sure that the technician who is doing the ultrasound knows that you want to keep the genders a surprise so that they're very cautious when they're moving the wand around on the ultrasound.
Clothing Decisions
As far as preparations go, I can think of two things that would change based on the gender of your twins. One is clothing. The second are nursery decorations.
The reality is that newborn twins go through clothes very quickly. Your twins will spit up, spill milk or formula, or have diaper blowouts. All these things mean they're going to be going through clothes very quickly.
I know that our girls were in onesies for several months. We would dress them up when we'd go out in public but when we were at home with the twins, they would be in pretty generic outfits.
If you want to prepare for your twins not knowing the gender of those twins, you should be able to stock up on onesies and simple neutral clothing. Neutral colors work for boys or girls and it will be just fine. Once the twins arrive, you can then expand the wardrobe to accommodate boys or girls.
The challenge is that a lot of people (friends, family, etc.) who want to buy you gifts for your registry or for your baby shower will want to buy clothes for your twins. Because buying two little outfits for your twins is something that's fun to do. And they are SO cute!
You'll have to shift gift-givers' attention from purchasing clothes to buying generic supplies, like onesies, blankets, burp cloths, or a lot of the other supplies that you know that your babies are going to use regardless of gender.
Nursery Decorations
When it comes to your twin nursery, you may need to prepare neutral decorations or a neutral color scheme to receive your twins.
In our home, we had two boys before our twins were born, and in their room, we had painted their room a light blue color. When our twin girls arrived, we moved the boys to another bedroom, and we brought the girls into this bedroom that had the blue paint.
Because it was a neutral light blue color paint, we didn't have to repaint the nursery. We simply added other decorations on the walls, accents like flowers and butterflies, and then we bought some new curtains for around the window to match the motif and the decorations in light with what a girl's bedroom would look like.
You may want to do something similar when you buy the furniture or paint in your nursery, all of which can then be later accented with details to match a boy or a girl scheme if you so choose.
Bonus: I put together some twin nursery ideas on my Pinterest board in case you need ideas.
How to Tell Your Family You're Keeping Twins' Gender a Secret
Believe it or not but some of your friends and family will be shocked (and maybe offended) that you're keeping your twins' gender a secret until birth.
First of all, you're expecting twins, which is kind of an anomaly anyway. Then you decide that you're not going to find out the gender. Some people just won't get it.
However, regardless of how others react be it shock or offense, you stick to what you and your partner want to do.
You have already weathered crazy reactions when you told your friends and family that you were having twins in the first place. And so to tell them that you're not going to reveal the gender until they're born isn't any different. They are going to react in crazy ways. Some will make sense, some will not. Some will be emotional and some will not. Just roll with it.
For many twin parents, having twins was a complete surprise; they did not see it coming. I know that's what happened to us. We were completely surprised to be expecting twins.
When everything seems out of your control, one thing you can control is the fact that you don't want to find out the twins' genders until birth. Go for it!
Remind any naysayers that are giving you crazy questions or feedback, that their parents or even your parents probably didn't know if you were going to be a boy or girl until you were born. And it was no big deal.
I'm pretty sure that my mom and my dad didn't know if I was going to be a boy or a girl until I showed up. And you know what? That's great.
Remember: it's okay to keep your twins' gender a surprise regardless of what other people say.
Hear from another twin dad, Kyle Mongold, on how he and his wife kept their twins' gender a secret until delivery.
Did you (or are you) keep the gender of your twins a surprise? Share in the comments how you've been able to keep it a secret.
And if you want a fun guess at what you'll be having without the official word from the doctor, try out our twin gender prediction calculator.
Picture by Nikita Borisov.