Today's topic comes from Rachel, who, after reading my twin pregnancy week-by-week guide, had some good insight from a mom's perspective on how the twin pregnancy progresses and the impact on her. So dads, I want you to read carefully what she has to say as your wife likely feels the same way as she's going through the twin pregnancy, and maybe she just hasn't said it to you yet.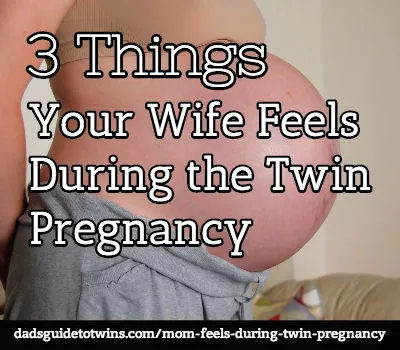 Rachel says, "I've struggled terribly with fatigue. It was definitely worse in the first trimester, but I still have bad days even now at 17 weeks. Take-out eating was common in my house, and household responsibilities were left undone. Fatigue definitely makes a woman extremely tired, but can also make her feel guilty for slacking. And it's a blessing to have a partner who is understanding."
I hope you read carefully to what Rachel had to say here because there are some very key takeaways that we, as fathers and as husbands, need to understand.
Fatigue
First, your wife is more tired than she's letting on. Especially during the twin pregnancy, you need to let her rest and help her get a break. Fatigue is a huge burden on your wife. Realize this is the case and act accordingly.
Guilt
Number two: pick up the slack on the chores around the house. If your wife was at home before the twin pregnancy and was responsible for these chores, she's going to feel guilty that they're not getting done. That may push her to do things that may not be healthy for her to do at this time. So pick up the slack on what needs to be done so that you can let her rest.
Needs Support
Number three: talk to your wife about what she's feeling and how you can help. It's always great to ask what you can do or what needs to be done. When my wife was pregnant with our twin girls, I always said, "Honey, don't worry. You're working harder than me just by sitting there, growing those babies." So have that same mindset with your partner. Remember that even if mom is sitting on the couch with her feet up, which she probably should be doing during the twin pregnancy, she's still working harder than you, growing those babies, keeping them healthy, and getting ready for delivery.
You'll find more about how to help mom through the twin pregnancy in Chapter Two of my book, the Dad's Guide to Twins: How to Survive the Twin Pregnancy and Prepare for Your Twins.
This topic was originally addressed on the Dad's Guide to Twins Podcast Episode 78: Get Twins' Attention, Mom's Fatigue, Conflicting Parenting Styles .
Picture by myllissa