I recently asked you, the Dad's Guide to Twins Community on Facebook, "What piece of baby gear could you and your twins not live without?"
You were generous with your responses. I compiled them below.
Take a look and you just might find the magical piece of twin gear that will make your twin parenting life easier!
Getting Around
As we all know, getting around with twins in tow can be difficult. Here are the top twin gear to help you when you venture out of the house.
The TwinGo Carrier is great for babywearing your twins around the house or at the store.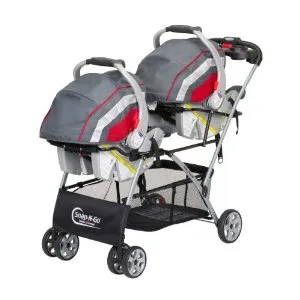 A double stroller is essential for navigating store aisles, the park, or a walk around the neighborhood. Many parents (including us) love the Baby Trend Snap n Go Double Stroller.
Here are the strollers that worked for our family.
Also check out my Twin Stroller Advisor that will guide you to the best double stroller for your family.
Feeding the Twins
The Baby Brezza is like an in-home butler that prepares and brings you a prepared bottle of baby formula. This works great when you have to prepare countless bottles for your twins.
If you are breastfeeding or need help supporting the twins while bottle feeding, parents recommend twin feeding pillows like the Twin Z Pillow or the My Brest Friend Twins Nursing Pillow.
Soothing the Twins
Soothing two babies at once can be a daunting task. These items recommended by your fellow twin parents will help.
You can get a simpler baby bouncer. We used something like this bouncer when our girls were infants.
If you'd prefer something more high-tech, then the Mamaroo is a baby swing right out of a futuristic sci-fi movie.
Another twin parent recommended the Gro Blind blackout curtain. This will turn any room into a sleep friendly dark cave for your twins. This would be perfect for the nursery or when visiting a hotel or grandma's house.
Containing the Twins
Once your twins are mobile, there will be no stopping them. Here's what your fellow twin parents are using to safely contain the twins.
A play yard or play pen like this can be a place for the twins to play safely where they can't get into trouble.
You might also consider a pack n play for a smaller space.
If your twins are like mine, they seem to have endless energy. Try a doorway jumper like this and let them jump and bounce to their hearts' content.
What baby gear could you not live without? Share with us in the comments below!