With any twin pregnancy, the chances of your twins arriving early are significantly greater than a singleton pregnancy. Too often, premature twins must spend time in the Neonatal Intensive Care Unit or NICU.
Every parent seems to have the ideal situation in mind when going to the hospital for the twins' birth: Babies will be born healthy and go home when Mom is discharged.
Unfortunately, this isn't always the case. Since your twin birth experience will be unique, you need to prepare for different outcomes than the ideal situation.
In addition to the physical preparations that twins require, you need to prepare yourself mentally and emotionally for having twins in the NICU.
Even though our girls were born a little early at 36 weeks, they didn't have to spend time in the NICU. I count this as a great blessing as I've seen other dads struggle with the emotional and physical burdens of having kids in the NICU.
Based on conversations with fellow twin fathers who had their babies in the NICU, here are some tips to help you prepare.
Accept the Possibilities with Twins
Take off your rose-colored glasses and get ready for the possibilities. This should include the reality of twins in the NICU. Imagine how any of these events shatters your ideal scenario: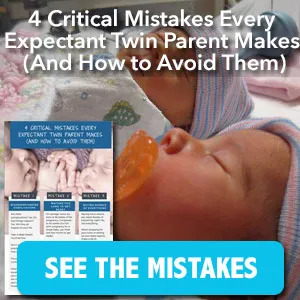 a series of complex surgeries on your newborn babies
leaving the hospital with your wife while your twins stay in the NICU
bringing one twin home before the other
Expect to go through the phases of grieving, even if both of your twins come home healthy. Why? Because you are grieving the loss of your anticipated ideal ending to your twin pregnancy.
You will experience the traditional phases of grieving: denial, anger, bargaining, depression, and acceptance. Each will vary in intensity and duration. All will wear you down physically and mentally.
Count Your Twin Blessings
As many fathers have mentioned to me, you can stay positive in the midst of undesired or unforeseen circumstances by celebrating the successes and positives of each day with your twins.
Keep your chin up and be ready for whatever may come. Talk over possible scenarios with your wife so you can put a reality check on your preparations. And make arrangements to take a tour of your closest NICU before your wife delivers. Accepting that time in the NICU could be part of your future and doing what you can to prepare for that end will lessen the blow if those cards are dealt to you.
Picture by Cheryl