When I first learned we were having twins, I was in shock. I stayed in that state of shock for at least several weeks.
This shock was fueled by fears and questions of how I would successfully care for my family.
One of my big concerns was how my new, bigger family would fit into our current home. I spent several days looking for a new house and running numbers through mortgage calculators online.
Did we end up buying a new home? No, and you shouldn't either.
Why?
If you want to live a long, happy life, don't make a pregnant woman, especially one pregnant with twins, move her family and house.
Your wife will get extremely large with twins. This means possible bed rest and definite exhaustion. Think for a minute about how she might handle packing up the house, moving to a new location, and getting settled into a new place.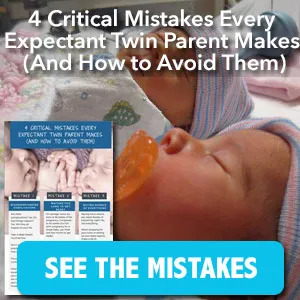 Moving is stressful even without a pregnancy. So don't do it.
The good news is that you can wait until the babies arrive and reassess the situation.
Amazingly, twins don't initially take up too much more space than a singleton baby. In fact, you can even consolidate and sleep both twin babies in the same crib for a few months.
Until the twins start getting mobile, you can survive in your current home assuming you have space for one baby. Twins share a bath, changing table, rocking chair, and even a blanket for tummy time on the floor.
Take a deep breath. Stop searching for a new house. You'll have plenty of new expenses anyway. Why add a bigger mortgage to the list?
Picture by Donnie Ray Jones
Need more help sleep training your twins? Check out this step-by-step guide to sleep training twins from fellow parent of twins, Nina Garcia: