Tell me if this is familiar.
You glance at the clock as you prepare to leave the house for an appointment.
There is plenty of time left.
Then after you scramble to get everyone ready, the time magically disappeared and now you're late. Yikes!
I'm sure this scenario has happened to you this week. Or this might happen today.
You needed to be somewhere at a certain time (doctor, school, appointment, church, etc.) and yet you were late.
It is a challenge to get anywhere on time with kids, and especially with twins.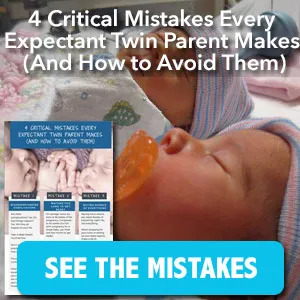 We still struggle with this even though our girls continue to get older and more self-sufficient each day.
Depending on the age of your twins, the reason for your delays and tardiness will vary.
As such you'll need to consider different options to make sure you're on time.
Leave Early
Take whatever time you thought you needed to leave and prepare to leave 15 minutes (or more) before that time.
This will give you a buffer of time to handle any last-minute surprises as you head out the door.
If you are early to your destination, no worries. Take a minute to wait in the car and relax. Listen to an audiobook with the kids, or simply start the unloading process.
Prepare Ahead of Time
The moments before you walk out the door are not the best time to finish your preparations. If you know you have to get the twins to a doctor's appointment, make sure you have all the paperwork, diaper bags, snacks, etc. ready to go well before your departure time.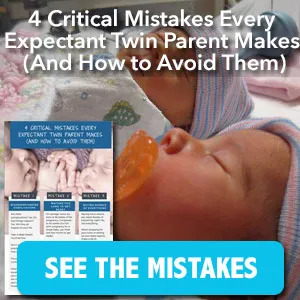 As your twins get older, have them put together their "busy bag" of books or toys that they will take with them.
Set Expectations
We like to review our upcoming week during our family dinner on Sunday. This helps us get the big picture of what to expect. Plus the kids latch on to events that are important to them.
Each morning during breakfast, we'll discuss briefly what is happening that day and who needs to be where and when. This way there are no surprises.
As the countdown to departure time approaches, we'll remind the kids that we are leaving in one hour. Then thirty minutes. Then a ten-minute warning. Of course, you know your kids and will get a sense of how much notice they need.
When your twins are infants, they will just go where you take them. As they become toddlers and older, it is important to set expectations with them of what is happening and what you expect them to do (get dressed, pack a toy, etc.)
Positive Peer Pressure
Getting your twins to do what you need them to do is a challenge. Remember to focus on the good behavior you want to see and focus your praise and attention on that.
If one twin is getting dressed or putting together her busy bag, call that out and draw attention to it. Express gratitude and acknowledge that she is doing what you asked.
Positive attention on the well-behaving twin will encourage continued good behavior in that twin and encourage the other twin to do the same.
Helping Each Other
Your twins have a built-in helper: each other. Once your twins are able to follow simple instructions to get ready to leave the house, they can also help each other.
We like to ask a child that is ready to go to help a sibling. This often accelerates our ability to leave and helps the kids learn to serve each other.
Forget Perfection
Having twins exempts you from having to be perfect. Congratulations! So don't worry if everything doesn't go according to plan.
Do the best you can and roll with the punches.
If you're late for your next appointment, make a mental note of why that happened and adjust your routine for next time.
Before long, your twins will be old enough to get themselves ready and will be in the car all buckled before you!