Should you get a Pack n Play for twins? The answer depends on how and where you plan to help your twin babies sleep.
Where will your twins sleep?
Many parents will keep newborn twins in their master bedroom during the newborn months. While this makes it easier to get up and take care of them, it makes it difficult for you, the parent, to get any good sleep. We put our twin girls in their own room from the day we got back from the hospital.
However, if you choose to have the twins sleep in your room, having a full-size crib might not be practical. This is where a Pack n Play comes in handy.
Dedicated Pack n Play for Twins
Graco makes a special version of their famous Pack n Play that is specifically for twins. However, the reviews are mixed on this version, especially the twin bassinets that sit on the top of the frame.
You can likely get by with just a regular Pack n Play and skip the special Pack n Play for Twins version.
Traveling with Twins
If you will be traveling with your twins, consider their sleeping arrangements while you are away from home. We had great success taking our Pack n Play on trips. Our girls shared the same playard for sleeping on several trips.
Nap Time with Twins
There came a time when we needed to separate our twins during nap time. Having a Pack n Play in the house made nap time a lot easier. We could put one girl by herself in each room.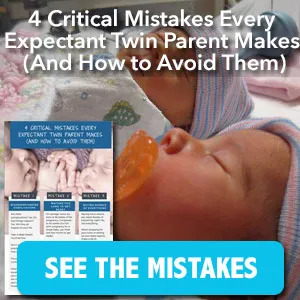 Even if you have two cribs in your twins' nursery, you don't want to move or take apart a crib just for naps. Having a dedicated Pack n Play for Twins' nap time was a huge convenience.
How We Used a Pack n Play for Twins
We purchased two Pack n Plays for our twins — both on sale or at a low-cost consignment store. This enabled us to separate the girls for naps, and have some place for them to sleep when we traveled.