Once you find out that you are expecting twins, your mind races with tons of concerns and questions.
Whether you've had children already or not, a twin pregnancy brings new unknowns that frankly can be overwhelming.
Talking to Your Doctor
You'll want to find a good doctor that you can trust and with whom you can have a comfortable relationship. You need to feel comfortable asking any questions and asking follow-ups if you still have concerns.
But what should you ask when you go to the doctor?
Make Your List of Questions
Take some time to brainstorm with your spouse the questions that you have. Write them down and take the list with you. This way you won't forget in the moment what you wanted to ask.
Once you make your list, double check it to make sure you've got what you need.
Example Questions to Ask Your Doctor
What can I expect during my pregnancy with twins?
How will this pregnancy be different from a singleton pregnancy?
What tests should I expect to have during a twin pregnancy?
How often will I need to see a doctor for prenatal care, and what tests will be performed?
What are the frequency and types of doctor visits I should expect throughout this pregnancy?
How much weight I am I expected to gain? Exactly what does that mean in terms of how much more I should be eating?
How can I make sure I'm getting enough nutrients and calories to support two babies?
How much water should I drink each day?
Can I exercise? What kinds are approved for moms of "high risk" pregnancies?
When should we expect to feel movement with our twins?
What are the risks associated with a twin pregnancy, and how can I manage them?
What are the possible complications with twins and when should I worry?
What are the chances I'll have to go on bed rest?
Are my doctor visits based on my actual due date or my realistic due date (measurements of both me and the babies)?
Will my delivery be based on my actual due date or realistic due date?
What are the signs of pre-term labor I should be looking for? What do I do if I experience them?
What is your experience delivering twins vaginally?
What are the chances that I will need a cesarean delivery, and what are the risks and benefits of this procedure?
How can I prepare for the birth of my twins, and what can I expect during labor and delivery?
What is your experience delivering twins via C-section? At how many weeks will you schedule a c-section?
Do you have rights to deliver at my hospital?
Does my hospital have at least a Level II NICU?
How long should I expect to stay in the hospital after delivery, assuming no complications?
What are the common complications that can arise after the birth of twins, and how can they be treated?
The author of the book Parenting School Age Twins and Multiples, Christina Baglivi Tinglof, also posted on her blog "7 Questions to Ask Your Doctor".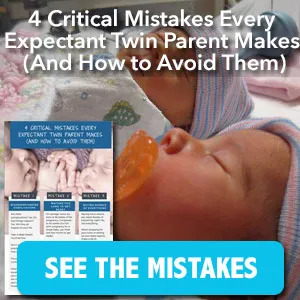 Check out her list for several things you should ask your doctor including many twin pregnancy specific health questions you might not even know to ask. For example, should you see a perinatologist or when will the doctor want to induce Mom towards the end of the pregnancy.
I talk more health care concerns of the twin pregnancy in Chapter Two of my book, the Dad's Guide to Twins: How to Survive the Twin Pregnancy and Prepare for Your Twins.
What other questions do you think expectant parents of twins should ask the doctor during the twin pregnancy? Leave a comment and let us know.