Dad's Guide to Raising Twins

How to Thrive as a Father of Twins
By Joe Rawlinson
You survived the twin pregnancy and have brought the twins home. Now the real adventure begins.
This guide will walk you through the challenging and exciting aspects of raising twins. You can thrive as a father of twins even during the crazy early years with twins.
What's In The Book?
The first years with twins are the hardest. This book covers newborns, toddlers, through to potty training and more…
FEEDING TWINS
How to feed your twins and get them on a schedule to keep them healthy and you sane. Tips on breast and bottle feeding your babies and introducing solid foods.
ENCOURAGE INDIVIDUALITY
Encourage individuality in your twins and help them develop a solid sense of self. How to bond with your twins and appreciate their uniqueness.
TRAVEL WITH TWINS
How to travel with twins at all stages of the early years. Tips for traveling on road trips and by plane and how to actually enjoy your trips!
GET YOUR TWINS TO SLEEP
Get your twins to sleep through the night. What you need to do each night to overcome sleep troubles. How to create a great sleep routine for naps and night time.
DIAPERS AND POTTY
The reality of diapering twins with tricks to make that easier on you and your wallet. Plus learn how to graduate from diapers and potty train your twins.
BALANCE PERSONAL AND WORK LIFE
Keep balance in your personal life with twins while you juggle work and family life. It isn't easy but this book shows you how to do it.
The Book For The Early Years With Twins
My first book, the "Dad's Guide to Twins," got you ready for your twins' arrival. This companion book continues the journey and helps you from the moment you get the twins home. It guides you through what to expect and how to handle those precious twins through the first couple of years.

Who Should Read This Book?
If you are expecting twins, have newborns, or are struggling through that first year with twins, this book is for you. You'll find tips and tricks to tackle each stage of your twins' development plus ideas to improve what you're already doing.
A Word From The Author
I've heard from many fathers of twins that there just isn't enough information to help them on their twin journey. I wrote this book so you don't have to struggle through your first couple of years with twins. You can thrive as a father of twins. This book shows you how.
WHY WAIT? GET YOUR COPY NOW!
Why put off improving your toolkit of twin parenting skills? Buy the Dad's Guide to Raising Twins today and skip a lot of the headaches and surprises that twins can bring.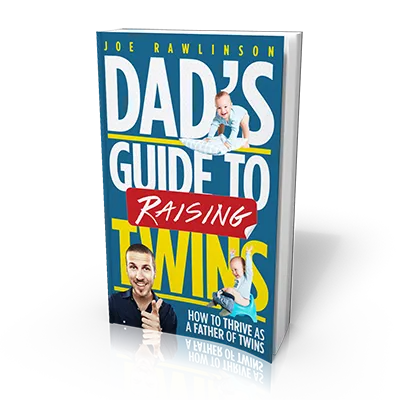 What readers are saying…
"Great book- practical tips on being a great dad to twins. Good writing style that's easy to put down and pick back up when you're done doing that twin thing you need to do twice." – David Gunn
"Must read for any twin dad or mother to be. From a father of twins to future father of twins. The more you know the better. Great read!" – Sergio Sosa
"This book greatly expands on the first book. It covers more than the first few months after your twins are born. There is also no waste of pages like some books that take 75 pages talking about vitamins and such. My only wish is that Joe had written the book before my twins were born. Then I could have benefited fully from it. If you are expecting twins or just had twins, then this is the book for you." – Mike Jakowlew
"I really enjoyed reading this book! So much of the author's advice touched on problems I am dealing with right now, parenting 2 8-month-old boys. It was nice to know some of the things I questioned my boys doing, including fussing while eating and having sleeping problems, were experienced by other twins. It's nice to know we are not alone and that the author cared enough to help us get through parenting by writing his book." – Emily Nieminski
"Being a new mother of twins (going on 7 months), I searched high and low for books about being a twin parent. What I realized, however, was that there were very few books that I felt I could pass along to my husband for him to also feel like he wasn't the only one going through all these experiences. This is hands down the most informative, relatable book for dads of multiples and I would highly encourage it for any new twin dad!" – Mhelia