Newsflash: Your house will be a mess with twins.
I remember when our house was always orderly and I could walk freely through the house without stepping on a hard plastic toy. Those days were before twins.
Before twins, your home may be a house of order and zen-like peace. As a dad of twins, now is the time to lower your expectations.
When your twins arrive, you will not be able to physically handle everything you once did. Some things will have to be let go or left undone.
A clean and orderly house can be let go.
You'll quickly realized that it is unrealistic to try to keep the house totally clean, especially during the day when the kids are awake.
My wife and I will spend the hour after the kids go to bed (which is at 7:00) doing tag-team cleaning every night. We start in the kitchen and clean up after dinner and then work through the toy room and family room, picking up the random items the kids failed to put away. Then we go on to our evening routine.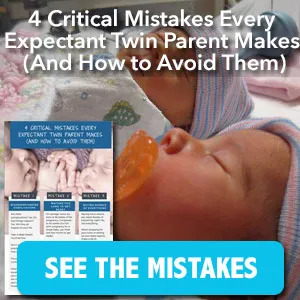 We don't necessarily love that we have to spend an hour every evening cleaning up, but we do appreciate the lower stress levels a clean kitchen gives to start a day.
We'd also rather spend time during the day playing and reading with the kids than cleaning. Granted, as the kids are getting older, we are involving them in more cleaning and chores. However, with newborn twins, you'll just have a mess.
Get used to the mess. Embrace it. Ignore it. Clear a pathway through it for those late night walks you'll take to care for a baby.
After a while, you'll be able to adjust to the new reality. Some time after that your twins will be old enough to not only make a mess but clean it up too. Just lower your expectations between now and then and you'll be fine.
Picture by Anita Hart