A twin pregnancy is not an easy time for Mom. She is under an intense physical burden carrying the twins, and stress levels can be high. Here are some things you can do to help ease your wife's stress during the twin pregnancy.
Sympathy
The last thing Mom needs during the twin pregnancy is for her man to not understand the gravity of the situation. Your wife is feeling the burden and the stress of having twins. Don't add to that by disengaging or minimizing what she is going through.
Prepare Every Needful Thing
As a father, my natural instinct during our twin pregnancy was to prepare everything I could before the babies arrived. Preparations were something that I could control. I couldn't speed up or slow down the pregnancy. I couldn't directly impact what was happening inside Mom's belly. However, I could get us ready for the twins.
A big source of stress during the twin pregnancy is preparing the household for twins, including finances, child care, logistics, and beyond. Tackle what you can and line up your preparations now so that the late stages of the pregnancy and newborn months go a lot easier.
Go to the Doctor with Her
The day we found out we were having twins, I was not with my wife at the doctor's office because I was watching our other kids. After that surprise, I was at every visit and ultrasound.
During your wife's frequent visits, the doctor will discuss important stages of the pregnancy and possible risk factors. When you attend these visits, you can better understand what is happening with your wife and babies. You can ask questions and see how you can best help your wife through any challenges.
Get Helpers
During the later stages of the twin pregnancy, your wife won't be able to do everything she normally does. She may be on official bed rest or simply need to rest because of her physical discomfort. You need to get helpers (either yourself or others) to fill in the gaps around the home and caring for your wife's needs.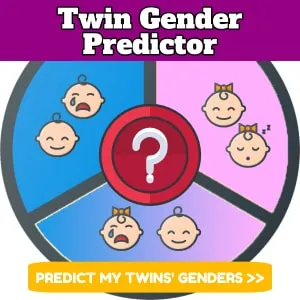 Prepare the Nest
Every expectant mother goes though a phase where she wants to redecorate the home in preparation for the new babies. In our case, this often included painting rooms, assembling cribs, etc. These tasks can grow into a long wishlist that can stress out Mom. You can reduce that stress by completing these tasks or helping with them.
Help Her Rest
You will need to help your wife rest. This may be simple, subtle reminders to put her feet up and relax or a more forceful admonition to heed her doctor's orders. Either way, you need to watch out for her health and for that of your unborn twins.
Mom will be reluctant to rest if she has a long to-do list. You'll tell her to rest and she'll insist there is too much to do. Helping your wife rest means not just reminding her but picking up the to-do list and doing those things for her so she can rest and not stress about it.
Health Issues
There are many potential health issues with a twin pregnancy. These can impact mom and/or the babies. If you worry about every single possibility, it will be a huge stress that need not burden you or your wife.
Learn about the common risk factors your doctor discusses with you. Help prevent those with the appropriate measures. However, don't stress out about every possibility. When new health issues arise, get informed and take action then.
By applying these tactics in your home, you can help reduce your wife's stress and help her have a happy and healthy twin pregnancy.
Picture by Marie-Claire Camp