Should you keep your twins together or separate them in school? Separating twins in school is a timeless debate that can have very real consequences for your family.
There are many pros and cons when it comes to separating your twins in school. While there has been some research on this topic, the decision often comes down to your personal preference. Let's walk through things to consider as you decide to separate your twins for school or not.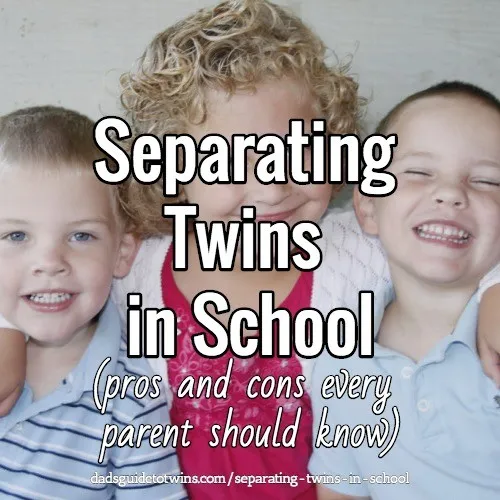 What is Your School's Policy on Separating Twins in School?
School policy may require that your twins be in different classes. Talk to the school's principal to see what options your twins have. Your school district may have one policy but they often leave the final decision to the individual school administrator.
Talk with your school's principal and teachers so you understand what interactions your twins will have if they are separated. For example, will they see each other at lunch or recess?
It seems to me that many educators favor separate classrooms for twins (for many of the reasons discussed below). So you will likely have more resistance if you want to keep your twins together.
How many classes does your school have for your twins' grade? Naturally, if there is only one class for their age group, separating them isn't an option. However, if there are multiple classes, separating them is easily accomplished. With multiple teachers and classes, you can try to find ones that match your individual twins' temperaments and personalities.
Even if you start your twins together in school, they tend to be separated as they get older (around age 8). The transition from home life to school might be easier with both together but they likely can't be together forever.
You may decide that separating twins in daycare or preschool is an early start to what they will experience as they get older.
You Know Your Twins Best
As a parent, you know your twins. Even if others can't tell them apart, you know their unique strengths, weaknesses, attitudes, and abilities.
If your twins have proven they are independent and can be just fine without each other, separating them in classes likely isn't a big deal.
If you have boy/girl twins, the dynamic is different from identical twins. Boys and girls tend to run in different social circles and have different interests. This contrast grows as your children get older.
Let's look at some advantages and disadvantages of keeping twins together in school classes…
Advantages of Keeping Twins Together in School
There are several advantages to keeping your twins in the same school class. Here are a few:
One set of birthday parties and social engagements outside of school. You'll have double the parties if they are in separate classes. As any parent knows, the logistics of getting your kids where they need to be and when can be overwhelming. One class simplifies that schedule.
One set of homework. Tracking assignments and homework is much easier when there is just one assignment for both children. You'll know what needs to be done and can more easily tutor both children at the same time as their work will be the same.
One set of friends. You want to know your kids' friends, right? Well, one class limits the number of friends' names you'll need to keep track of and will hear in discussions with your children.
Same teacher and teaching style. Every teacher has different instructions, patterns, requests, and teaching environments. You will need to coach your children through these. When your twins share a classroom and teachers, you can more easily remember which teacher wants things done which particular way.
Less comparison of experiences and classes. Your twins will compare who is having more fun, activities, treats, etc. than the other. When they are together, these comparisons and associated drama are reduced as they share the same opportunities in class.
Overcoming the twin bond is hard if your twins are very close. Twins may not want to be apart and may even experience great emotional trauma at separation.
Some research indicates that separating twins for kindergarten may not be the best course of action. You may consider keeping your twins together for starting their schooling and then separate them later on.
In case you think keeping your twins together is all sunshine and roses, let's explore the other option…
Advantages of Separating Twins in School
Your decision to separate twins in school may be the preferred option because your twins actually want to be in separate classes (ours did) or they may be too disruptive if they are together (like ours probably would be).
Since many schools favor separating your twins, having twins in separate classes may be the path most of you take. With that in mind, here are several advantages you and your twins will experience.
Opportunity to develop personal interests and skills. As you observe the individual differences in your twins, you'll notice unique talents, interests, and abilities. When separate, they will have more opportunities to explore and develop those qualities without always being bunched together with each other.
More likely to compare selves to classmates instead of a sibling. It is very easy to compare twins to each other. As parents, we tend to compare and frankly, the twins compare themselves to each other. When they are separated in school, their teachers and classmates can't compare them. The measuring stick against which they are measured and by which they measure themselves are the rest of the students in the class, not their sibling.
Each will have her own friends, play dates, and activities. Different classes mean different friends for your twins. It creates an opportunity for them to meet new people and form relationships independently of each other.
Reduced contention between twins. If your twins tend to fight, argue, or drive each other crazy at times, you will find some relief when they are separated at school. They can't annoy each other if they aren't together. However, do keep an eye out for potential friction when they get home from school.
Twins are more likely to draw their own conclusions and find their voice and own opinions on things. If you have a twin that always looks to the other before answering, you'll understand this benefit. When each twin is isolated, they are forced to learn and figure things out on their own without being influenced by their sibling.
Minimal codependence. You may have one twin that dominates conversations or activities. If one twin is always relying on the other or hiding in her shadow, separate classes will help develop more independence.
Give your twins a break from sibling rivalry or competition in the classroom. If the competition and comparisons are really strong between your twins, then separation will help break that as classroom behavior isn't witnessed by each other.
Helping Your Twins Succeed
When it comes time to answer the question, "twins in school: together or apart?", remember that the ultimate goal is for your children to be successful academically and socially. Make your decision about whether to separate them or not with their best interest in mind.
You will be influenced by school administrators, your extended family, and even the twins themselves. Weigh the advantages and disadvantages above carefully and you'll make the right call.
Is it good to separate twins? As we've discussed, there are benefits and drawbacks of separating twins in school. What is best for your family and twins is the best choice.
Try to find teachers that will match up to your kids' unique needs if possible. This will make the transition from together to separate go much more smoothly.
Observe your twins' individual development and behavior as the school year progresses. You can always revisit your decision about separating twins in school ahead of the next school year if you think a change is needed.
What has worked for you?
Thanks to the dads in the "Dads of Twins and Multiples" Facebook group and on my Dad's Guide to Twins Facebook page for sharing their experiences.
What have you found worked best in your twins' schooling? Together or separate? Please share in the comments below.
Original photo by anjanettew