Podcast: Download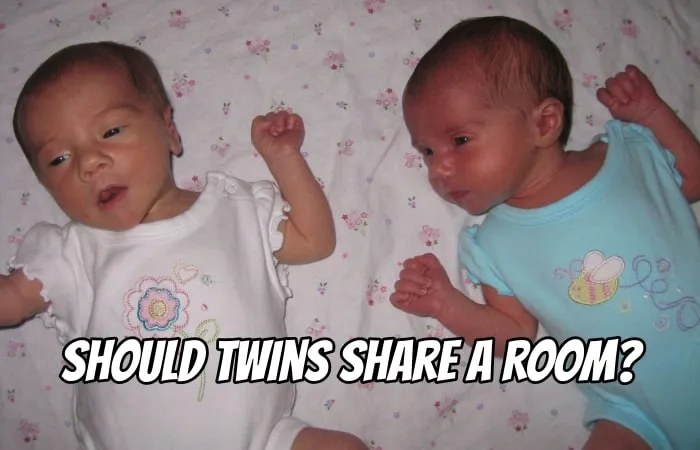 Can your twins share a room or nursery?
Absolutely.
Our twin girls have shared a room since the day we brought them home from the hospital.
In fact, our girls shared a crib for several months before moving their own cribs.  (Please note that the safest sleeping arrangement for your infant twins is for each twin to be in their own cribs.)
Two Cribs
Should twins share a nursery? It worked for us!
Remember, your twins have been together since those early days inside the womb. They are completely used to each other's presence.
After we moved our girls to their own cribs, we noticed that they actually missed each other. Our girls would squawk at each other to make sure the other was in the room.
Two Beds
When the time comes to move out of the cribs, you'll probably want two beds, too. You should be able to fit two twin-sized beds (yes, they call them twin beds) in the floorspace of even a small bedroom. Alternatively, you can look at bunk beds or a trundle bed to economize space.
Advantages of Twins Sharing a Room
You only have to decorate one room.
When you hear one of your twins crying in the middle of the night, you don't have to figure out which bedroom to run to.
All the kids' clothes will be in one room, which makes it easy for dressing when they are young and makes it easy to share clothes (especially if you have identical twins)
If you put both your twins in the same room, you don't have to buy that bigger house right away.
Disadvantages of Twins Sharing a Room
As they get older, your twins will wake each other up. Most often this happens in the morning, when you are hoping for a few more minutes of sleep.
Quieting down for bedtime is a challenge. Our girls liked to chatter and sing to each other after we put them in their cribs. This led to about an hour of activity before they calm down and finally go to sleep.
Naps in the same room are difficult because your twins will just want to play with each other and not sleep.
Boy/Girl twins will eventually reach the age where sharing a room is awkward.
Be Flexible
You'll hear most twin parents talk about their twins sharing a room and how it worked out great.
But what if it doesn't?
What if your twins have trouble sleeping or refuse to go to sleep because they are always distracted by their twin?
(NOTE: Still expecting?
Get weekly updates on your twin pregnancy here.)
It is OK to move your twins to different rooms.
Just because something worked well for others doesn't mean you have to stick to that if it doesn't work for your family.
Will Separate Bedrooms for Twins Interfere with Twin Bonding?
We've always tried to establish habits and routines that we intend to keep. This has helped our kids get in a good routine and know what to expect. If you ultimately plan on having twins in separate bedrooms, now is a great time to start.
It is as good a time as any when you bring them home from the hospital to just put them in their separate rooms where they're going to be eventually.
Your twins will have plenty of time together throughout the day to bond.
Don't worry too much about them losing out on the ability to bond as twins because they've already spent close to nine months in utero together.
Once you bring them home, they're going to spend a lot of time together in the daytime, feeding, and playing. So, if you have them in separate bedrooms for sleeping, I don't see that as a big problem to interfere with their twin bonding experience.
Sleeping Arrangements to Accommodate Twins and Older Children
If you already have children when your twins are born, it may be challenging to make sleeping arrangements for all the kids.
We live in a three-bedroom home. When our girls were born, we had our two boys sharing a room, our master bedroom, and a room for the twins.
If you need to move older children around, start that transition during the twin pregnancy so your children are used to the new arrangements before twin babies turn life upside down.
This way there are no major adjustments or transitions when the twins arrive, which will already be a big surprise for your older children. You might as well make that transition now, so they have less change when the twins do arrive.
When Your Twins Get Older
Just because your twins can share a room doesn't mean that they will want to share a room forever.
How long your twins share a room is really dependent on the space you have and their own preferences.
As your twins get older, they will start to more strongly express their desires whether that be to continue sharing a room or demanding their own space.
If you're stuck in a home without extra bedrooms, it may just be time to tough it out. Or if you have the means, moving to a bigger house might work for your family.
We are still in the same three-bedroom house where we started our family.
To accommodate our daughters' desires for their own rooms, we remodeled their bedroom to have a large bookcase/divider down the middle so they each have their own space.
It was a creative compromise to give each girl her own "room" without having to buy a bigger house.
Remember that it is just fine to get creative with the space you have. Look twice and you might just be able to make it work with what you have.
If you've already had your twins, do they share a room? What do you think, should twins share a room?