Can your twins sleep in the same bedroom?
Absolutely.
Start Your Twins in One Crib
When we brought our girls home, they both shared a crib for several months.
When they started to roll over and get a little too crowded, we moved each girl to her own crib but kept them in the same room.
(Please note that the safest sleeping arrangement is for each twin is be in their own cribs.)
Two Cribs
Remember, your twins have been together since those early days inside the womb. They are completely used to each other and we noticed that ours actually missed each other when we first moved them to separate cribs. Our girls would squawk at each other to make sure the other was in the room.
Two Beds
When the time comes to move out of the cribs, you'll probably want two beds, too. You should be able to fit two twin-sized beds (yes, they call them twin beds) in the floorspace of even a small bedroom. Alternatively, you can look at bunk beds or a trundle bed to economize space.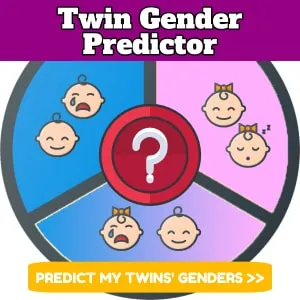 Advantages of Sharing a Room
You only have to decorate one room.
When you hear one of your twins crying in the middle of the night, you don't have to figure out which bedroom to run to.
All the kids' clothes will be in one room, which makes it easy for dressing when they are young and makes it easy to share clothes (especially if you have identical twins)
If you put both your twins in the same room, you don't have to buy that bigger house right away.
Disadvantages of Sharing a Room
As they get older, your twins will wake each other up. Most often this happens in the morning, when you are hoping for a few more minutes of sleep.
Quieting down for bedtime is a challenge. Our girls like to chatter and sing to each other after we put them in their cribs. This leads to about an hour of activity before they calm down and finally go to sleep.
Naps in the same room are difficult because your twins will just want to play with each other and not sleep.
Boy/Girl twins will eventually reach the age where sharing a room is awkward.
If you've already had your twins, do they share a room?
Picture by Ruth L

Need more help sleep training your twins? Check out this step-by-step guide to sleep training twins from fellow parent of twins, Nina Garcia:
Further Reading