I got this question from Andrea. Andrea already has two kids under 4 years old. She's used to, when those two were newborns, having them start by sleeping in the master bedroom with the parents.
With twins coming, she's wondering what the best sleeping arrangements would be for her family, for her four kids. She's not quite sure about housing two twins in the master bedroom like she had with the singleton babies.
Twins Can Share a Crib and Bedroom
We had a very similar circumstance with our family. We have a three-bedroom house. My wife and I have one bedroom and our boys were in another bedroom when our twin girls were born.
We knew that our kids were going to have to share a room, so it was only a question of when that was going to happen.
When our twins were born, we had four kids in our family and only two available bedrooms. The twins ended up sharing a crib to begin with in their own room, and then later on they each had their own crib but still shared the same bedroom. Their older brothers were then in their own bedroom.
Helping Older Siblings Share a Bedroom
For your case, Andrea, I'd recommend you look at having your older daughter and your son share a room to help with the transition. In fact, you may want to experiment with putting two children together right now, so you have time to work out the kinks before the twins arrive.
This way there are no major adjustments or transitions when the twins arrive, which will already be a big surprise for your older children. You might as well make that transition now, so they have less change when the twins do arrive.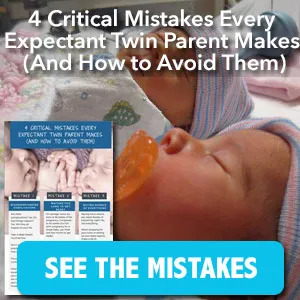 Now unless you have plans to move, if you have a house like us where you only have so many bedrooms, it sounds like your children will be sharing rooms in some shape or form in the future. You might as well get them started now. It will help ease the transition when the twins come home.
This question was originally addressed on the Dad's Guide to Twins Podcast episode 32: When to Start Preparations, Sleeping Arrangements, Calming the Chaos of Twins.
Picture by Nayelli Rodriguez
Need more help sleep training your twins? Check out this step-by-step guide to sleep training twins from fellow parent of twins, Nina Garcia: