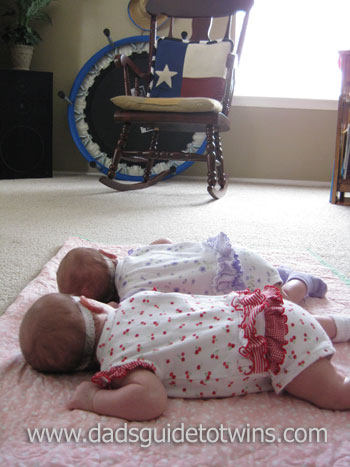 As a dad, you may not care what clothing style or designs your twins wear.
However, there is one thing that will directly impact your happiness as a dad: snaps.
You see, baby clothes usually have easy access for diaper changes. If, by the way, you are looking at baby clothes that don't have snaps on the bottom to make a diaper change easy, walk away and buy something else.
If you have both boys and girls, you'll notice that girls' clothes are usually more ornate and tend to have more pieces that need to be buttoned or snapped together.
Unfortunately for dads of girls, this means that you will be trying to get your daughters dressed in clothes that were designed for looks and not for ease-of-use.
Buttons on baby clothes are your worst enemy.
(NOTE: Still expecting?
Get weekly updates on your twin pregnancy here.)
You'll be trying to dress a wiggly baby and can't get the buttons buttoned.
Or you'll be changing a diaper and can't get the buttons undone.
The lesson: avoid buttons at all costs.
Sure buttons make outfits "cute" and "precious" but you don't care. Buttons on a baby outfit turn even a steady handed surgeon into a fumbled fingered failure.
So when you go shopping for your kids, or your wife brings home a stack of new baby clothes, be sure you ask the only question that really matters: "These only have snaps, right?"