Podcast: Download
Let's talk about stroller options for your twins plus one other child.
You could have a singleton child and then you have the twins, or you could have the twins and then you have a singleton child. Some of these configurations I talk about below can work for either one of these scenarios.
The premise of a lot of the twin strollers I mention below are that you have a standard double stroller with some kind of add-on like a standing stool or a third seat attachment. Thus a lot of double strollers right out of the box are not going to handle twins plus one. They're built for double occupancy, and then you still to install some kind of add-on attachment.
But first, let me share what worked for us.
What We Did with Our Twins Plus Two
We didn't have twins plus one, we had twins plus two. We already had two toddler boys when our identical twin girls were born.
(NOTE: Still expecting?
Get weekly updates on your twin pregnancy here.)
We had four kids, ages three and younger, and we had to solve the same dilemma of how to transport everybody where they needed to go.
We already knew that we had the two toddlers and we knew we had the twins coming. We got the inline Snap-n-Go stroller where their car seats could snap into the frame with one girl in front of the other behind. We used that stroller while the twins were infants and they were in their infant car seats. At that phase of our adventure, our toddler boys just walked around.
Alternatively, we also had wearable baby carriers, Baby Bjorns. So my wife could wear a baby in the Bjorn and I had the other baby in a Bjorn.
For example, we went to Disneyland when our girls where still babies. We took a double umbrella stroller that was the pack mule for our toddler boys, the twins when needed, and it carried our diaper bags and stuff. My wife and I each wore one of the twins in a Baby Bjorn on our chest. That way we were able to maneuver everybody around through the crowds.  This same setup also worked when we were out in public at the grocery store or when we went for a walk.
You can be creative in how you're carrying the twins. You could wear them, toddlers could walk, you can get a stroller, and you can get dedicated strollers with attachments that will fit twins plus one, which is what we're going to talk about right now.
Here are some popular solutions for strollers for twins plus one:
Valco Double Stroller with Joey Third Seat
Use the Valco double stroller with an extra jump seat. This is a standard side by side double stroller, but it has an attachment that sits on the front so that your plus one kid is right up in the front.
The third child sits in front of your twins. Your twins are going to be sitting side by side, and they're going to be staring straight ahead and seeing the back of this little attachment chair that fits in the front. Sometimes these attachments are called joeys like the baby kangaroos that sit up front in momma's pouch.
To create this twins plus one stroller setup for your family, you'll need these two pieces:
Zoe Trio
Another option is from Zoe. There's the twin model of the Zoe stroller and there's a trio version where instead of a joey seat like the Valco, you basically have a single stroller that sits in front of the double stroller.
At first glance, it looks like your double stroller rear ended and attached to a single stroller in some kind of sidewalk collision.
This kind of stroller setup requires that your kids are old enough to hold up their own heads.
This makes for an extra long train of babies that you're going to be pushing around. If you need a little shorter, more compact solution, consider the other options we're discussing here.
Bugaboo Donkey + Ride On Board
If you haven't heard about the Bugaboo Donkey, it is not priced like a donkey. It is priced more like a thoroughbred racing horse. It is one of the most expensive stroller options out there but does come highly recommended. So if you have the money and the budget to buy the Bugaboo Donkey (or if your in-laws want to chip in and buy this Cadillac version of a double side-by-side stroller) by all means, go for it.
The Bugaboo Donkey Duo version has a side-by-side stroller setup. It can handle side-by-side bassinets, car seats with attachments, and side-by-side seating as the kids are able to hold their heads up by themselves.
With Bugaboo's third wheel attachment, you have a ride for your toddler. It's an attachment that goes on the back axle of the double stroller. It's basically underneath the handlebars between you pushing the stroller and the babies that are in the side-by-side stroller.
I'm not sure this would be great for super long distances, but definitely if your toddler gets tired and wants a ride, they can probably sit on this easy breezy and get pushed around, no problem.
Again, this one's going to be pricey. This Bugaboo solution is upwards of $2,000 for the twins plus one stroller setup as you'll need several pieces to make it work:
If that's not in the budget, some of the other options we've talked about already will be significantly cheaper for you.
Bumble Ride Indie Twin + Toddler Board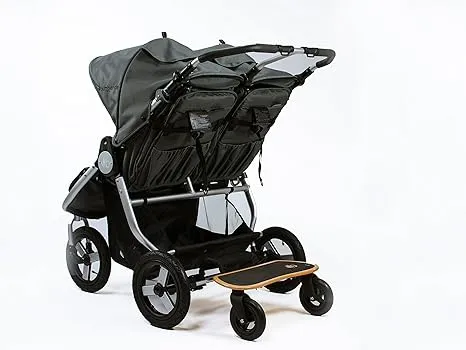 The Bumble Ride Indie Twin is like a lot of these other side-by-side double strollers we've talked about where you need to buy an additional attachment, the toddler board for your toddler.
This will be great if you have the baby twins and you've got the singleton toddler that needs a little ride around. Now, the toddler board attachment, fits to the back axle of the stroller underneath the handlebar. Your toddler rides between you and the main portion of the stroller.
To get this twins plus one stroller setup, you'll need:
Okay, so we talked about several double side-by-side strollers that could work for you. Now, of course, these are not the only brands. If you are looking for a different side-by-side double stroller, you have to check with the manufacturer to see if they have any kind of toddler seat, third jump seat, or third wheel attachment. Otherwise, it may not meet the needs that you're looking for.
But double strollers with attachments aren't the only solutions. Let's look at wagons…
WONDERFOLD Quad Stroller Wagon
If you don't want to do the double stroller option with some kind of attachment board for the third child, then you may want to consider a wagon.
Several twin parents recommended the Wonderfold Wagon.
This is not the wagon from when you were a kid. I remember the little red Radio Flyer wagons, which are just basic metal rectangles with no restraints, no roof, short walls, and everybody's falling out as soon as you turn a corner.
Wagons today are much safer and better equipped. These include harnesses to keep the kids strapped in and they come in different sizes so they can accommodate up to four of your kiddos.
These wagons are heavy duty. They've got four wheels, so it's not just two wheels on the back and one in the front like some of these double strollers. And they often come with a canopy, child restraints, and lots of pockets and storage space. It's perfect for hauling your entire crew around.
Plus a lot of wagons like this will be cheaper than some of the double stroller plus attachment options that we talked about.
For the wagon phase of life, it's going to have to come after your kids are a little bit bigger and are able to hold themselves up – usually around six months and up.
Which of these options sound the best for your twins plus one stroller needs? Leave a comment or let me know on Instagram or Twitter.