Having twins and surviving the newborn months is one of the hardest things that your marriage will have to endure. Realizing that this is the case, many of you have written to me and asked for advice on how to keep your relationship with your wife strong and ensure you have alone time once the kids are born.
The good news is that once your twins get past the newborn phase, start sleeping through the night, and fall into a more friendly schedule, life does get back to a new normal. In that new normal, you can reestablish dating and alone time with your wife.
During the newborn months is when you have to be creative, patient, and selfless.
Here are some things my wife and I found successful in keeping our relationship strong despite the heavy demands of newborn twins:
Schedule the Babysitter
As soon as your twins start to fall into a predictable pattern of feeding and sleeping, you need to plan a date with your wife. This date may just be an hour away from the house to run an errand or go out to eat. Nevertheless, be sure to schedule this time or it will never happen. Getting a babysitter for your twins isn't too hard if you do a little prep work.
Help with Feedings
Your wife will appreciate help when it comes time to feed the twins. Use this time to talk with your wife and stay connected emotionally. Middle of the night feedings may not be so conducive to conversation since you'll likely be sleep walking through the feeding. However, the mere act of you helping with feeding and caring for the twins will strengthen your relationship with your wife and lighten her burden.
Take Advantage of Naps
When the twins are sleeping, you have two options: take a nap or do something else. I typically advise that you take a nap. You'll likely be sleep deprived and need all the rest you can get. Nevertheless, you may also consider the twins' nap time as an opportunity to strengthen the relationship with your wife. Even if you are home-bound, spend time together talking, watching a movie (yes, you might fall asleep), doing chores together, etc. When the house is quiet, don't just run off to your corner to work on your projects. Spend some of that time with your wife.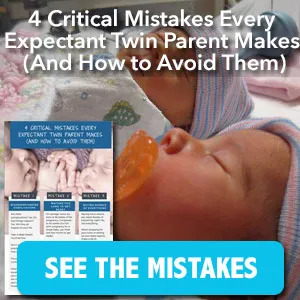 Realize this is Temporary
The first year with twins is a blur and very challenging. The good news is that it is also temporary. Your kids grow up and many of the challenges of feeding, sleeping, changing, and constant care fade into the past. Talk the situation over with your wife frankly and acknowledge that this is just temporary and that any lack of attention isn't intended as a personal statement. It is simply a necessary part of this phase of parenthood.
Alone Time
There will be a lack of marital intimacy after the twins are born. In due time, the physical demands of newborn twins will ease up and you can get back in your routine. As with getting out of the house, you'll likely want to schedule alone time with your wife too or it won't happen.
Your marriage can and will survive newborn twins. Set clear expectations with each other. Take every opportunty to spend time together. Actively work on your relationship and it will come out stronger than ever.
◦Picture by Vincent Diamante
Further Reading