Many parents who are expecting identical twins worry that once their children are born they won't be able to tell them apart. This is a natural concern that does require a little forethought. Telling twins apart isn't always easy but there are some things you can do to help quickly identify your twins.
Keep in mind that even identical twins are individuals, and usually within hours after birth you begin to see some distinct difference in your children.
Having newborn twins in the house will mean you are fatigued, and there may be some momentary confusion. Don't feel guilty about this as even children born years apart are sometimes called by a sibling's name. Many an adult has recalled being a child of a large family and having their mother or father call them every single one of their siblings' names until they hit upon theirs.
If you are still worried about telling twins apart in the first few weeks of their life, here are some tips that may help.
Look For Physical Characteristics in Telling Twins Apart
Even if your twins look identical at first glance, there is usually some physical characteristics that will set them apart. By closely examining your children after birth, you can find some characteristic that will help you to know which child is which. Look for traits such as:
Size: Is one twin noticeably larger than the other either in length or weight?
Birthmarks or Moles: Do your twins have differently shaped birthmarks, or does one have a distinctive mole?
Different Facial Features: Do your twins have slightly differently shaped or colored eyes, a different head shape or nose shape? Any physical trait that is different from one child to another can help you to easily tell your twins apart.
Personality Traits
Many parents of identical twins notice distinct differences in their children's personalities within hours or a few days of birth. One may sleep peacefully for long periods of time, while the other may awaken every hour. One child may cry more often than another and want to be held constantly, while the other may be quieter and seem more contented on its own.
When All Else Fails, Color Code
If you are really concerned about telling twins apart, and you don't think that the different physical or personality traits are enough to give you confidence, then you can always color code your twins. For example, you may want to dress one twin in pink or blue, and other in red or green. Or you may want to choose orange for one twin and yellow for the other.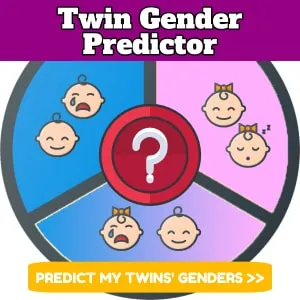 Color coding your children's clothing, and making sure to dress them one at time, will help ease the worry about telling your twins apart. As time goes on, their different personalities will shine through and each twin will be obvious to you at first glance.
Picture by jiunn kang too
Further Reading