I recently found a great article titled "Terrified Of Having Twins? Eighteen Pieces Of Advice From A Mom Who Has Been There." by Nikki over at RushedMommy.com.
Nikki makes several great points that I've also found very valuable, and I want to mention a handful of those to you today. Now keep in mind that even though this is from a mom, it still applies to the experience that you'll have as it focuses on the needs of your family and of the twins.
Baby Showers
So Nikki states, "People are going to ask you what do you want for baby showers. Ask for the gift of meals, help around the house or with holding babies, so you can sleep, shower, etcetera. Trust me, you won't regret it." I totally agree with Nikki's suggestion here!
While in the eyes of the gift-giver, these may be unorthodox requests, but it is exactly what you need. People want to get cute clothes for your babies or cute baby toys. The reality is that your twins are going to be in onesies and not playing with toys right away. But they will need to eat. You do need to eat and get some sleep. You definitely could use help with those babies!
So when people ask you what you want for the shower, I always recommend a frozen-meal shower where people bring food that can be easily put in the freezer to stock up for those days when you're hungry and do not have time to eat food that you've prepared by cooking in the kitchen for an hour. You just pop it in the microwave or pop it in the oven and you're ready to go.
Scheduling
The next thing that Nikki suggests is, "Get them on the same schedule." But she does add some clarification that I think is very valuable and it's often misunderstood when you talk about getting twins on the same schedule. She continues, "I don't mean an hourly feeding or sleeping schedule that your life has to revolve around. Simply feed them at the same time. Put them to sleep at the same time."
This is exactly what we did with our twins. We got them on the same schedule for eating and for sleeping. It's not: At eight o'clock the twins will eat. At nine o'clock the twins will sleep. At 10 o'clock the twins will eat. It's not that rigid. It's more of a cycle and a pattern that you'll twins go through throughout the day. They're going to eat, they're going to have some activity time. They're going to then get sleepy and go down for a nap, and then you're going to repeat the process.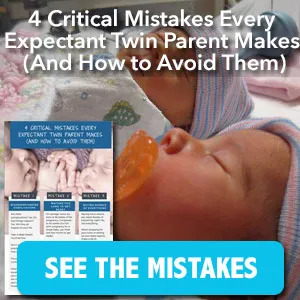 We kept our twins on the same schedule of eating and sleeping and with all the craziness of twins, this is the one thing that had a huge positive difference on the quality of our life, because we knew what to expect, we knew what was coming next and we could plan our schedules accordingly.
Light at the End of the Tunnel
Now, Nikki reminds us that, "No matter how bad it seems, you will get through it." She hits the nail on the head here, because the first few months with twins are the hardest thing that I think I have ever done. I knew that there was a light at the end of the tunnel, naturally, because the twins were going to get older. I could see that logically in my mind, but I could not really see the light at the end of the tunnel through all the sleep deprivation and the challenges of the moment with the twins.
Each day we built upon the successes of the previous day and we moved ahead step by step. And you can too. Just remember, no matter how bad it gets, you will get through it.
The Terror
Lastly, I want to talk a little bit about the title of her article, "Terrified Of Having Twins?" We all feel the shock and the terror when we find out that we're having twins. I remember many sleepless nights after we found out we were having twins asking the question, "What am I going to do?" Now, one way we overcame this terror and fear, was to be systematic in our preparations. We focused on things that we could do and the things that we could prepare, and took confidence in those preparations.
So focus on what you can do. Definitely focus on recruiting someone to come and help with the twins. There is a light at the end of the tunnel, so don't forget that.
For more practical and detailed steps on preparing for your twins, check out the Dad's Guide to Twins: How to Survive the Twin Pregnancy and Prepare for Your Twins.
This topic was originally addressed on the Dad's Guide to Twins Podcast Episode 79: Your Twins in Public, Terrified of Having Twins, Birthday Invites.