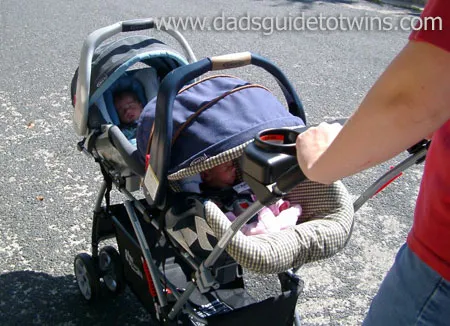 Transporting your twins is a challenge worthy to be included on The Amazing Race. You're leaving the house with twins? You're awesome. Pat yourself on the back.
However, gone are the days of up and deciding to go somewhere on the fly. Now you find yourself getting the babies (and anyone else) ready to leave at least 30 minutes before you actually need to leave the house.
There's a lot to think about and a lot to remember to make sure outings go smoothly once you leave the safety of your home. So do yourself a favor and let your brain rest once you're on your way with this one little tip.
A tip that is worth the price of admission:
Get an inline double baby stroller.
In fact, not just any inline double baby stroller. We bought a Baby Trend Double Snap N Go Stroller Frame that easily fit both our Graco car seat/infant carriers. (If you can't find the Snap N Go, check out the Joovy Twin Roo+ Car Seat Stroller.)
(NOTE: Still expecting?
Get weekly updates on your twin pregnancy here.)
I can safely say that this piece of baby gear is unequivocally the best purchase we have made to date.
Why? It's light, compact, easy to maneuver, and you never have to disturb a sleeping baby by taking him out of the car seat. Just lift out of the car, snap into the stroller base, and go.
Seriously, if you don't take a single other piece of my advice, take this one: get this piece of equipment. You will thank yourself many times.
Once you are done with your inline stroller, you can easily resell it on Craigslist or at a garage sale when you are done with it. Snap N Go strollers are very popular and high in demand.
Inline vs. Side-by-Side
There are a bazillion stroller options out there. Thankfully, having twins narrows that number to a couple hundred. But really, there are only two basic types: inline and side-by-side.
You'll have to weigh the pros and cons of each kind based on your situation and the way you think you'll use a stroller. The reality is that you may end up trying both kinds over the course of infancy and early childhood and that different types of strollers will work for you at different times of life.
How Long Will It Last?
In our case, we started with the inline and then moved to a side-by-side. The inline stroller only lasted for us until our girls got long enough to kick the other car seat, and consequently, her sister's head. (We hit this problem about the six month mark.)
Once our twins could sit up on their own, we switched to a more basic, double stroller like the Jeep Wrangler Twin Sport All-Weather Umbrella Stroller. Since these umbrella-type strollers don't need the bulky car seat carriers, they take up less space and aren't such a wide load problem.
Not sure what's the perfect stroller for your twins? Check out my Twin Stroller Advisor to find the best double stroller for your family.
Still wondering how to prepare for your twins? I cover specific things you should know and prepare for in my Dad's Guide to Twins book. Learn more about the book here.