Here is a question from Miriam. She says that at first with her twins, she always had somebody to help her. And there were two people to rock the babies to sleep, and it wasn't a problem. But now that she's alone with the babies, she asks, "How do you transfer your twins from your arms to their cribs when you have both of them?"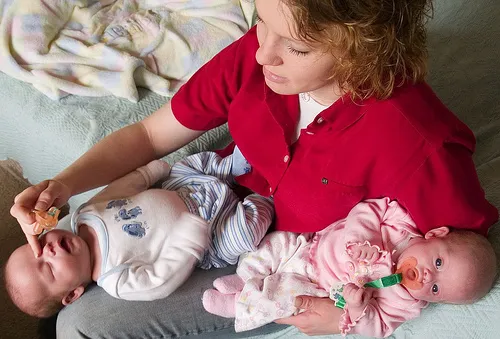 Transferring Sleeping Twins to the Crib
So I found that when I had both of our babies in my arms and they both fell asleep, I had to take turns on which baby to put down in the crib first. And so I'd move one baby to a safe, flat surface. For example, the middle of our master bed.
I could lean over, with both babies asleep, and gently lay one down on my bed, because it's usually easier to reach down and put her on the bed than it is in her crib. And then, I could take the sleeping sister to their nursery and lay her down in her crib. And then I could go back get to the sister that was still sleeping in our bedroom.
If you're going to lay your babies down one at a time on an elevated surface, please make sure that it is a secure place and your babies will not roll over. Typically, I didn't do this after a girl started rolling, because there's always a danger that they could roll off her bed. But when they're young and infants, they're not going anywhere. And it should be safe in the middle of your bed for the moments that it takes you to put the other twin in the crib first.
Rocking Twins to Sleep
Now the habit that you're in right now with the twins, of having to rock them to sleep, is not a good habit. When the twins are used to this, it's going to be hard to break, but it's something that you need to change. Otherwise, you're going to continue to have the problem of having to always soothe and rock your babies to sleep, which is not a habit that you want to have.
You want to have your babies be able to fall asleep on their own in their cribs without you having to take action. And so it's going to require that you slowly work your babies away from this. Here are some additional sleeping tips for your twins. But the first step is to acknowledge that you don't want this habit to stick around. You want your babies to start being able to fall asleep by themselves.
This question was originally addressed on the Dad's Guide to Twins Podcast Episode 46: Reality of Twins in a Small Apartment, Rocking Twins to Sleep, White Noise Help.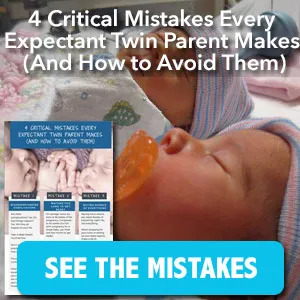 Picture by Larry Jacobsen