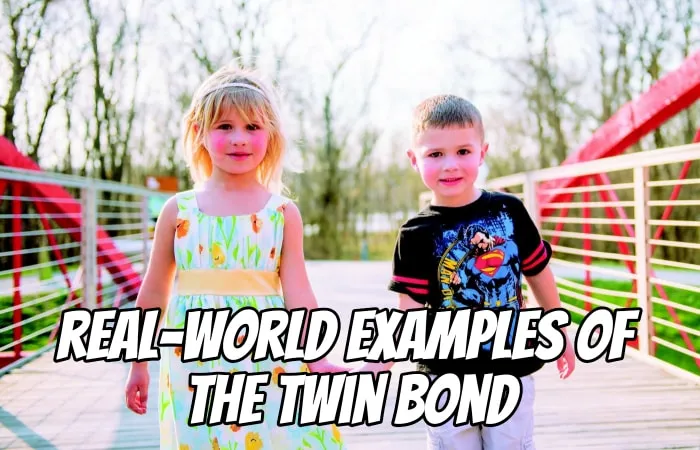 Does the twin bond exist between your twins? If so, what does it look like in your home?
I asked your fellow twin parents on my Facebook page and they had plenty of examples of the twin bond that I'll share below. Do any of them look familiar to you?
Twins Need Each Other
Twins can be the best of friends or the biggest enemies – all within the span of a few minutes.
They like to do things together and don't want the other to miss out on the fun:
Your twins will demonstrate the constant need to know where the other one is. This may manifest itself in questions or tears when the other twin is missing.
Since my girls were little, I wondered when they finally realized they were "twins" and not just an extension of each other. As it turns out, other parents have observed similar connections:
Twins are Inseparable
A common theme between twins is that they can not be separated. They always seem to find each other and need to be with each other.
Your twins may want to do everything together. Activities, sleep, school, playtime, and more:
Separated twins may be quite distressed when they don't know where the other is:
Fighting But Can't Be Apart
One challenge of always being with your twin is that you get on each other's nerves.
This leads to fighting and fussing.
However, that fighting often has a deep relationship underneath the surface:
Always in Reach of Each Other
Since they've been together since their days in the womb, twins like to be physically together.
This leads them to try and connect physically whenever possible. Even if that is through the crib bars at night:
Your twins will also follow each other around the house.
Even as your twins get older, they will still want to be physically close:
Own Language
Do twins have their own language? While it might not be an official language, they do have a unique way of communicating with each other.
If your twins' babbling sounds like gibberish, look closely as they likely appear to understand each other:
As our girls got older, we saw this translator pattern frequently. If we ever didn't understand one of our girls, the other could always tell us what was said.
Sleep Together
Our girls shared a crib for the first several months of their lives. Even after they graduated to their own cribs and ultimately, their own beds, we've found they like to sleep together in the same bed.
If one is afraid, we'll find them both cuddled up together in the same bed.
Your twins may even refuse to sleep in their own beds:
Encouraging Bad Behavior in Each Other
The old adage of "monkey see monkey do" is very true with twins. Your twins may bond together in that they share all their mischievous talents and behaviors:
Twin Bond? What twin bond?
As your twins grow through different phases they may be the best of friends or the worst enemies.
Perhaps they bite each other like Erin's twins:
Or steal each other's toys and pacifiers.
Right now, it may appear that your twins completely hate each other. That may be true. Some twins never bond and others turn into great friends later.
The Twin Bond Changes
However your twins are acting today, it will change tomorrow. Next week, they will be different still.
As time moves on, so matures your twins' relationship with each other:
Nurturing the Twin Bond
As a parent, you can encourage your twins' bonding by positively reinforcing the behaviors you'd like to see.  When they play nicely together, acknowledge that and tell them how much you love to see that.
Author Christina Baglivi Tinglof shares more tips on nurturing your twins' relationship here.
If you'd like more insight into your twin's relationship, check out my chat with Dara Lovitz about raising emotionally healthy twins.
How about your twins? Do they have a twin bond? What does it look like in your home?