Podcast: Download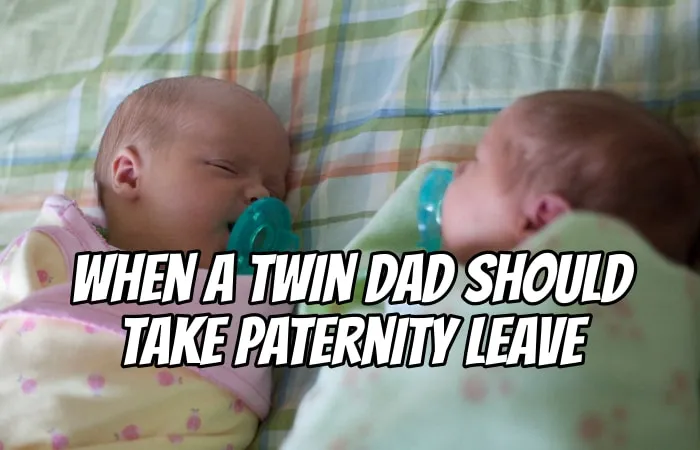 As the father of twins, there is no doubt: your help will be needed when the babies come home from the hospital. It might even be needed before they are born.
So the question is: when should you take your paternity leave and how long do fathers of twins typically get?
The Family and Medical Leave Act (FMLA in the United States) allows both the mother and father to use up to 12 weeks of leave for prenatal and post-pregnancy care. Your employer will likely have specific policies on how that time is allocated (vacation vs. sick time or time without pay). Make sure you take advantage of paternity leave FMLA and all the time off you can get.
How long do twin dads typically have for paternity leave?
The answer to this question is different every time I talk to a father of twins.
The answer of how long they get to stay home with their twins after the twins are born, varies greatly from almost nothing to being a permanent stay at home dad with twins, and everything in between. I'd say that the average paternity leave for fathers of twins is no more than two weeks.
There are many factors that influence how much time you'll get off for paternity leave with twins.
First, is the parental leave policy where you live. Some countries and localities are more generous than others.
The amount of time you get off also may come down to your employer. Paternity time for men is usually really restricted at least here in the United States – you may be lucky to get a few days or a few weeks off for the birth of your twins.
In my case, for the birth of each of my four children. I was given two weeks paid leave after their birth. Fortunately, I was able to get creative in how I divided up the two weeks I was able to take a full week when the twins were born.
Do fathers of twins get paid paternity leave? Talk to Your Boss
Talk to your employer to figure out how much time you can get off of work to care for the twins.
The big question is how much of that time is paid time off? Can you access unpaid time off and still return to the same job (if it's a job that you want to return to)?
(NOTE: Still expecting?
Get weekly updates on your twin pregnancy here.)
Double check your local laws in your particular part of the world. Your local government or your national government may have rules and regulations about how much time a new parent should receive time off of work before they go back to the office or back to employment.
Discuss Child Care With Your Partner
Who is going to be taking care of the twins when one or both of the parents go back to work? That answer often determines how long mom or dad (or both) can take time off after the twins are born.
In our case, we already had two little boys when our twin girls were born. My wife was already a stay at home mom and the plan was for her to continue to be a stay at home mom when I returned to the office. So that's what we did after my paternity leave was up, I went back to the office and she was at home with all four children.
Childcare expenses for twins can be very expensive. Of course childcare just for a single child is expensive. Add two to the mix and things start to get crazy. If you have any other very young children who also need childcare, those prices start to reach a point where economically speaking, it may be best for one parent just to stay at home, unemployed, to take care of the children while the other partner works.
Is it in your budget to hire a nanny or an au pair or someone who can be with the children during the day in your home? That's an awesome situation where both parents can go back to work while the children are still taken care of even from an early age.
How Long Do You Want Off?
How long do you want to be home with the twins after they're born? That is really a personal question for you and your partner.
The economics and finances of it really determined how long most parents stay home with their twins before returning to work.
If you're able to rework your budget and finances so that one parent can stay home or both parents can stay home, more power to you.
If you need to be able to both work to provide for your family and you have to pay out of pocket for childcare. That's often the route that many parents go with as well.
Remember that everything is negotiable. Have open and frank conversations with your employer about how much time you need off. Don't be afraid to ask for more. Every new father of twins needs the opportunity to bond with their children after birth. You may have to get creative of how you make that happen for you and your family.
Prenatal Care
If your wife is on bed rest, she may need help even before the twins arrive.
However, this may put you in a sticky situation: your family needs you at home for more time than you can take off of work.
The first piece of advice I give to anyone that tells me they are having twins is "get help." When people ask how they can help, put them to work.
If you have to take time off work before the twins are born, just keep in mind that you might not have much (or any) time after birth.
When to Take Paternity Leave if Your Twins Are in the NICU
If your twins are born nearly full term and go home from the hospital a few days later, your paternity may look different when compared to if your twins have an extended stay in the hospital NICU.
What should your Plan B include if you might have a NICU stay?
Planning paternity leave is an important thing that you need to do as a father of twins, and you need to set expectations with your boss early about potential challenges.
Well in advance of the twins' delivery, you need to start having a conversation with your boss to make sure you can get the time off that you need. The important factor is to say, "This plan is subject to change," because your twins may be born early, they may have complications, they may spend time in the Neonatal Intensive Care Unit, and that directly impact when you can or cannot return to work.
If the babies come home straightaway from the hospital, as soon as mom comes home from the hospital, whatever schedule you arrange in advance should probably hold just fine.
If your twins end up in the Neonatal Intensive Care Unit, you should try to work as much as you can during that time. Save your time off for when the twins actually come home, and both you and your partner are having to care for them by yourselves.
When the twins are in the NICU, you're free to go visit them almost anytime. All of their care is being provided by the hospital staff.
The reality is that, while you can go and visit and interact with your twins in the NICU, your children's condition will probably limit how you're able to interact with them. However, even just sitting and looking at them, holding their hand, feeding them, or reading stories to them is still very important for you as a father to bond with your twins during their time in the NICU.
One thing that you can try to do is see how you can work your regular full-time work schedule around visits to the NICU. You may want to plan to stop at the hospital on your way to work to visit with your twins. You may want to take time at lunch, during the lunch break, to go visit with your twins in the hospital, and then swing by the hospital on your way home at night, to visit with your twins as well. Of course, this depends on if the hospital that your twins are in is actually close to your workplace.
Talk through with your boss about flexible work hours. For example, go in to work earlier and leave earlier to allow you time to go to the hospital to visit with your twins.
Like I said before, you want to save those full days off until your twins are back home, because that's when all the work and all the burden falls to you as the parents of twins. While they're in the NICU, try to be creative in how you can spend time in the NICU without necessarily interrupting your work schedule so you can save up that time off for later.
Helping the Newborns at Home
When our twins were born, I took a week off right when the twins were born. Most of that time was spent in the hospital but it did give me a few days back home with our girls.
I then returned to work for several months since we had lined up helpers to come and stay with us. When all our helpers went home, I then took the last piece of my paternity leave.
Thus we stretched out as long as possible having more than just my wife at home.
Keep in mind that you're going to arrange your time-off schedule in line with what kind of help you can bring into the house; if you can bring your family in to help with the twins, or friends to come and help with the twins, it may allow you to delay your paternity leave or stagger your paternity leave over time. You could thus stretch out the amount of time that someone is home with mom and the twins to help out.
Plan Ahead
Be creative in how you handle staffing needs at your house with newborn twins. Talk to your employer to see what your options are and see if you can work flexible schedules if needed.
While you might not be able to take off a full 12 weeks without pay (you do have two new mouths to feed), by planning out when and how you'll take your paternity leave, you'll be able to help transition your family into your new reality as gently as possible.
How are you planning on taking (or did you take) your paternity leave? Let us know in the comments.
Pictures by EtanSivad and Joe Goldberg