When feeding your twins, it is often helpful to have a twin feeding pillow. These pillows help support the twins on your lap in a position where it is easy to feed them. They are especially helpful for breastfeeding mothers so that Mom doesn't have to hold the twins during the entire feeding. But beyond meal time, these twin feeding pillows can also help during playtime or nap time.
What to look for in a Twin Feeding Pillow
Of course, the first thing you should look for is comfort. Does the pillow fit the person who will mainly be using it, Mom or Dad? You will also want to be sure that the pillow is big enough for twins to rest on it at the same time.
One important feature is a removable cover. When your twins spit up on the feeding pillow, you can simply throw the cover in the wash rather than having to treat the entire pillow. It may even be handy to buy a second cover for your pillow so you don't have to wait while one is in the wash.
Other features to look for are a carrying strap, a privacy sheet (for nursing mothers) and whether the feeding pillow can have more than one use. Some make sense in other applications, but some may not.
My Brest Friend Supportive Nursing Pillow for Twins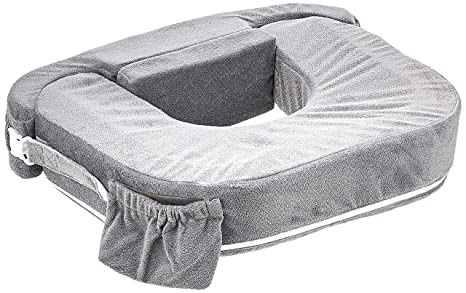 My Brest Friend makes a large, U-shaped pillow big enough to hold the twins on your lap. It comes with a smaller back pillow that fits inside the U. You put the U around your middle and you have a soft place on your sides and lap where the babies can rest.
Twin Z Pillow
The Twin Z Pillow takes a different approach in an effort to make the pillow useful beyond feeding time. It is certainly large enough for twins. It is shaped like an M, with the sides of the M curving toward the arm in the middle. When feeding, you fold the arm upward to use as a backrest and lay the twins on the sides of the pillow, next to you. Then you can fold the arm back down and let the pillow support the twins as they sit up or sleep next to each other.
Have you ever used a twin feeding pillow? Which one, and how useful did you think it was?