Dad's Guide to Twins

How to Survive the Twin Pregnancy and Prepare for Your Twins
By Joe Rawlinson
If you are an expectant twin dad wondering what your twin pregnancy and future holds, help is on the way…
When you find out that you are expecting twins, you are in total shock. Your mind races with a million questions and you start to stress out about what to do to get ready. This is completely natural and you're not alone.
The "Dad's Guide to Twins" will help you survive the twin pregnancy and prepare for your twins' arrival.
What's In The Book?
This affordable guide will pay for itself by providing money-saving tips, outlining your preparation options, and eliminating common surprises that accompany every twin pregnancy and the early days of newborn twins.
ESSENTIAL PREPARATIONS
You're overwhelmed by everything that must be done to prepare for your twins. This book walks you through essential preparations you must make for your newborn twins before they are born.
TWIN BABY GEAR AND SUPPLIES
Let's face it: there is a ton of baby gear out there. Cut through the clutter and see recommended twin supplies and gear: what you should get and what you don't need.
MINIMIZE FRUSTRATIONS
The twin pregnancy and your concerns about twins can be unrelenting. Read about nagging frustrations that you can minimize or avoid on your twin journey.
FINANCIAL GUIDANCE
One of your first worries after you found out you were having twins was "How am I going to pay for all of this?" This book discusses strategies you can use to handle the financial stresses of having twins.
MASTERING THE MENTAL GAME
If your mind isn't in the right place, twins will be harder than they need to be. Learn valuable mindsets to help conquer the overwhelm of twins and thrive.
SURVIVE THE TWIN PREGNANCY
Twin pregnancies are hard on mom and more prone to complications. Learn about the reality of surviving the twin pregnancy and what it means for your family.
"The book is packed with practical advice, from a father's perspective, on preparing for and raising twins. There is a hefty dose of humor which makes the book fun and easy to read. Mothers of multiples will learn from and enjoy reading this book as well. I highly recommend this book for expectant fathers of multiples."
Dr. Khanh-Van Le-Bucklin, M.D., Author of Twins 101
The Book to Prepare for Your Twins
This book will help you through the twin pregnancy and get you ready for your twin's arrival. From the moment you find out that you're expecting twins, your mind swirls with questions and worries. This book helps you take control of your preparations and mindset so you can successfully help mom through the twin pregnancy and be ready for your twins' birth.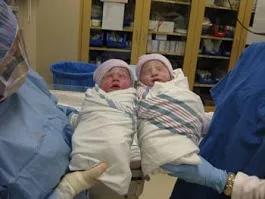 Who Should Read This Book?
If you are expecting twins this book is for you. It is written for fathers of twins, from a father's perspective. There are many books out there written by moms for moms. This book discusses the issues that dads struggle with most during the twin pregnancy.
A Word From The Author
"It is overwhelming to learn you are expecting twins. What are you suppose to do? Fathers have a very important role in preparing their family for twins and helping mom through the pregnancy. This book helps you power through your concerns and make real preparations for your twins."
WHY WAIT? GET YOUR COPY NOW!
After reading this guide, you'll be informed, cool, calm, and collected and ready for the challenge ahead. Implement my tips and you, your family, and home will be prepared for your twins' arrival.
GET YOUR INSTANT DOWNLOAD – ONLY $12.99
Read "Dad's Guide to Twins" on your computer, tablet, or phone. Instantly download a PDF and start reading now:
GET YOUR PAPERBACK – ONLY $16.97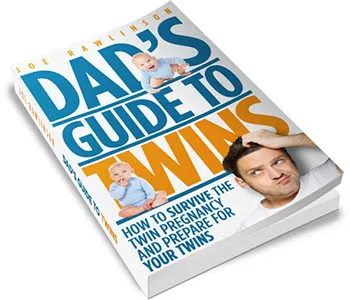 Get your paperback edition of "Dad's Guide to Twins" shipped directly to you. Free shipping in the United States!
MORE READING OPTIONS
WHAT READERS ARE SAYING…
"I really appreciate how the author provides actionable advice that helped us sift through what we would need to purchase to prepare for twins as well as several great ideas how to make those first several months after their arrival easier." – Eric
"Joe Rawlinson's book was a great guide covering a wide breadth of topics important to expectant fathers of twins – everything from getting a handle on your expenses, to recommended products and baby gear (and whether to buy 1 or 2 of certain products), to how to deal with the anxieties and concerns most expectant fathers have. This book was a great change of pace to the stack of 'mom-to-be'-focused books my wife had accumulated, and has been a resource I've gone to time and again both during the pregnancy and afterwards when adjusting to the new additions to our family." – Alberto I., Wayne, NJ
"This is a great option if you're looking for a straightforward and practical GUIDE to prepping for twins. I emphasize 'guide' because it truly reads like a guide or instruction manual. I personally love the way it's written, because it gets to the point and easy to find what you're looking for without wading through dense paragraphs of filler material." – Will
"This book was very helpful to a first time parent expecting twins. It is an easy read and informative. In addition, based on the way it is written I can use it as a reference point throughout the pregnancy and births." – Timothy
"This book has been very helpful in alleviating some of the anxiety accompanied with finding out you're having twins. It's full of little tips that have helped with the pregnancy. " – Ryan Dodge
"I love that the author is a DAD with lots of knowledge and experience in this subject! So if you want your husband to be included, this is a great option for reading together. It has excellent information and it is written from a guy, husband, loving father perspective! The information he has provided has helped me so much during my pregnancy and along the way with my twins! I really recommend it!" – Adran
"This book was a plethora of information; the author answered quite a few of the questions that have been on my mind regarding the entire twin "experience." My wife and I read sections of the book together and found that it led to productive discussions. The author addressed things that we didn't even know we could be facing. The book details situations that may happen that can be scary in a way that is informative and not "scary." I especially liked the part of the book that details how I can help my wife if she is put on bed-rest. My wife is a "do-it-all-myselfer" and it's a relief to know some of the ways I'll be able to help her and ask others to help her. This book will be a reference book for me, something I can refer to frequently." – Adriann