One of the challenges with twins is carrying them around when you are by yourself. Even though there are many different types of carriers for twins on the market, the Twingaroo Twin Carrier holds a unique position. Read on for a full Twingaroo review, its major pros and cons, and other product details that will help you decide if the carrier will work for you.
Twingaroo Twin Carrier Overview
The Twingaroo is a twin carrier with built in diaper bag. The carrier includes two insulated bottle holders and 2 compartments for diapers. You don't have to worry about hauling around a diaper bag as you can carry the essentials with you.
The Twingaroo is made for children from 10-35 pounds per child or up to 70 pounds total. Granted it isn't easy to haul around that much weight but the carrier will support it.
Each baby faces you; one on your back, and one on your chest. This is not a forward facing carrier.
While the Twingaroo can serve as both a twin carrier and for just a single child, you can't separate it into two different carriers. So if you want a single carrier for mom and one for dad, consider the BabyBjörn Baby Carrier instead.
Keep in mind that the Twingaroo is not for newborns (notice weight/size limits) as each child will need good head control before using this carrier.
See pricing, customer Q&A, and reviews of the Twingaroo here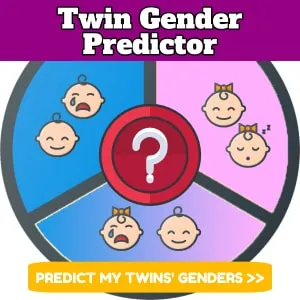 How to Get the Twingaroo and Your Twins On Your Body
How to Get Sleeping Twins into the Carrier
Attaching Just One or Both Carriers
Click here for pricing, details, and reviews of the Twingaroo
Pros and Advantages of the Twingaroo
Move your baby from front to back without having to take off the carrier
When using just for one child, the extra pouch is great for storage of diapers, toys, and other necessities
Free up your arms to do chores, go shopping, or hold your other kids' hands
Easy to get babies in and out
Bag on the back is spacious enough for your necessary baby gear
Evenly distributes the weight of your twins so your body doesn't feel lopsided.
Padded shoulder straps ensure they don't dig into your shoulders and help make the carrier comfortable to wear
Material is easy to clean and wipes right up. Great for cleaning spit-ups, spills, or other bodily fluids babies are famous for releasing at unsuspecting times.
Fits great regardless of your body type. Perfect for mom, dad, or grandparents. Adjustable straps make sure you get a great fit each time you wear it.
You can leave the double stroller at home
Not just for twins: you can use this carrier for two different size children
Cons and Disadvantages of the Twingaroo
Instruction manual leaves a bit to be desired. You're better off watching videos (like those above) on how to use the Twingaroo
Carrier gets warm when you're carrying two kids (or just one). If you'll be outside in the sun, consider getting the khaki color instead of the black fabric to help stay a little cooler.
The colors are very utilitarian and not very exciting to your twins.
Getting your babies into the carrier takes some practice
Buckling the top straps for the front baby can be a challenge as the child's weight works against you.
View other reviews of the Twingaroo here
I have one for my twin 7 month olds and I absolutely love it!! It's a life saver, since I also have a 4 and 2 year old to chase. I put the twins in it and we go out side and I have my hands free to play with my older 2 kids. The twins love it, they end up falling asleep in it and they even like it more than their stroller. I have also used it when they are fussy or needing to both be snuggled at the same time, that way they are calm and happy and I can get stuff done. I can honestly say best purchase I made for the twins and I couldn't live without it! – Krysti McKenna Hildebrand via facebook.com/dadsguidetotwins
You can purchase the Twingaroo directly from its creators at Stuff4Multiples.com