One of the big challenges of raising twins is that you literally always have your hands full.
Sure, you can push your twins in a stroller but we all know that doesn't always keep them as calm as you'd like.
A great solution to keeping your twins close and calm is to wear them. Babywearing frees up your hands to do whatever task is before you. Plus your twins will love the close snuggle that babywearing gives them.
There are several carriers for twins that range from slings to more harness-like products.
When our girls were babies, there weren't really any good twin carriers so I was excited to take a look at the TwinGo Carrier.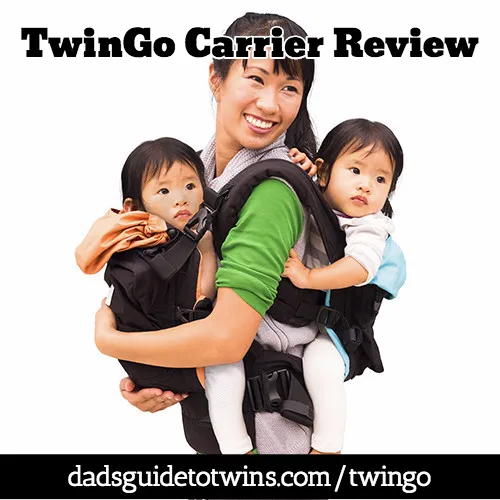 TwinGo Carrier Unboxing
Here's what to expect when you receive your TwinGo Carrier box:
How to put on the TwinGo Carrier
In order to dual wear your babies, you'll need to systematically go through several steps to attach the carrier and get your babies strapped in.
This video from TwinGo shows you every step of the way:
Here's another video of a twin mom putting on the TwinGo Carrier and getting her twins situated:
What size babies will fit in the TwinGo?
The adjustable waist and shoulder straps create a custom fit for parents 4'11" to 6'5."
The TwinGo holds children between 10 lbs (4.6 kg) and 45 lbs (18.2 kg), and as small as 7 lbs with the TwinGo Infant Insert.
Pros of the TwinGo Carrier
The padded shoulder straps and adjustable straps on this carrier make it very comfortable and customizable to your body size and shape.
Once you've got your carrier adjusted properly and have practiced, it is rather quick and easy to get your twins settled in the carrier (see videos above).
The carriers fold into themselves for a small, compact package. This makes it super easy to store around your home when not in use or to stuff in a suitcase if you are traveling.
The pockets offer handy storage space for diapers, bottles, wipes, etc. But remember that you're already carrying a lot of weight with the twins so don't go overboard. With the space provided, you can leave the diaper bag at home.
Fabric material is thick and sturdy. Buckles are heavy-duty and instill confidence that they will hold.
You can use this as a single carrier or double carrier. When my wife and I wore our babies, each of us wore one in a Baby Bjorn carrier. The TwinGo makes it easy to share the load with your spouse or wear both babies if you are by yourself.
You can avoid dragging the gigantic double stroller around and use this carrier instead. You can get on and off planes, trains, or the car easily.
The combination of shoulder straps and waist strap help distribute your babies' weight so you don't feel the entire burden in one spot. The straps are designed like those you'd find on a backpacking style backpack.
You'll free up your hands to get things done. You can do chores around the house, go for a walk, grocery shop, or do any number of outdoor activities.
The front carrier makes nursing in public easy.
Your babies are cuddled up close to you. Who doesn't love that?
Balance and comfort when carrying two babies, front and back.
You can machine wash the TwinGo to easily clean off the spit up or other messes your twins make.
Cons of the TwinGo Carrier
The TwinGo Carrier will require some time to get adjusted and fitting well. Make sure you watch the video above as the print instructions can only help you visualize so much.
You might experience back soreness as you get used to babywearing. However, that is likely with any type of carrier. If you are uncomfortable, be sure to check how the carrier is fitted.
One disadvantage is that you can't turn the front baby around to look out like with a Baby Bjorn carrier.
Getting one of your babies on your back can be a bit scary at first. Make sure you practice with your spouse or friend as a spotter before attempting by yourself.
You will get LOTS of comments when wearing both twins as you will be a traveling circus. That is one of the perks of having twins ;)
Overall TwinGo Conclusion
This is the type of carrier I wish we'd had with our twin girls when they were little. The fact that you can wear both babies at the same time or have each parent wear one baby is awesome. The storage compartments are a bonus as we all know we need supplies available when out and about.
You can learn more about the carrier at TwinGoCarrier.com or get it on Amazon.com.