Here is a question from Jennifer. She says her No. 1 concern is cost. She talks about her insurance and her deductible for a standard pregnancy, and she's not sure if twins are the same. Are they double the expense? How is that going to impact her budget?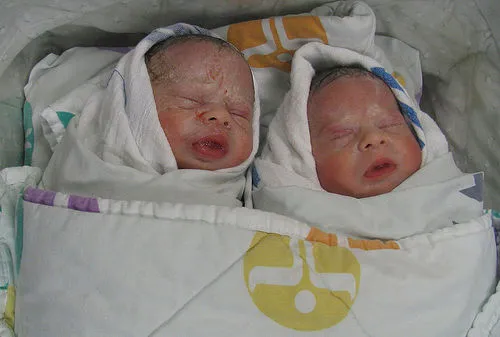 Now, cost is a major concern for most parents of twins. Almost everybody I hear from says that is their big concern: How am I going to pay for all this? It was our concern as well when we found out that we were having twins.
Double Kids, Not Exactly Double Expenses
Now, having twins isn't exactly double the cost of a singleton birth, but your actual expenses may get complicated. Your hospital stay as the mother costs about the same with one baby or two. However, each of your babies will get their own charges for in-hospital care.
If they spend any time in the NICU, which is always a possibility with twins, as they tend to arrive early, these costs can add up rather quickly. Time in the NICU, the neonatal intensive care unit, can run between $2,000 and $3,000 or more per day.
Insurance For Twin Deliveries
Talk with your insurance company before the twins arrive to make sure they know you're having two babies. You don't want claims to be rejected because they think it is a duplicate charge. Consumers Advocate has an extensive list of health insurance reviews if you're looking for a good provider.
Some claims will be submitted to the insurance company as Baby A and Baby B. They won't even have the babies' names on them. You'll likely have to sort out these claims after the fact and after you've gone home from the hospital.
Check up with the insurance company before you get the bill in the mail from the hospital to sort out any errors and save you time, headache and effort and a lot of money up front.
This question was originally addressed on the Dad's Guide to Twins Podcast episode 27: Worried About Twin C-Section, Bathing Infants, Hospital Bills.
Picture by shira gal