From the moment your twins are born, you will be searching for easier ways to do things so that both babies are taken care of. When you have just one pair of hands, many tasks seem impossible. Thankfully, more products are being created especially for twins. A twins feeding table is just such a product.
Twins Feeding Table for Infants
If you are bottle feeding, it is possible to feed both babies at the same time. However, it does require some creativity and patience.
Fortunately, you can now bottle feed both twin infants at the same time with a twins feeding table for infants. The table is essentially constructed of two infant seats that are molded together. The infants are secured in the baby seats with comfortable harnesses, and the table can be adjusted so that the infants can sit up or lay back slightly. This enables the parent to hold two bottles at the same time, while looking directly at both babies, which is extremely important when it comes to the bonding process.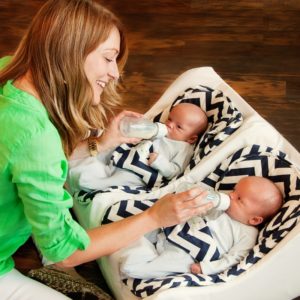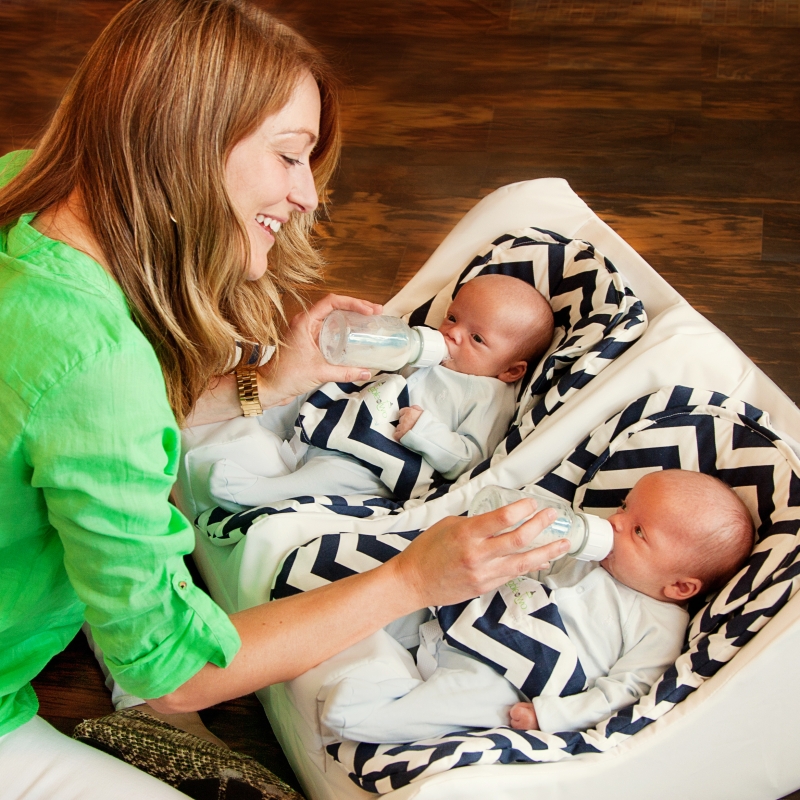 The Table for Two model is very popular with parents of twins. It will let one person feed the twins at the same time.
When our twins were infants (before Table for Two was created), we'd put two bouncy seats side by side and feed the girls while they were strapped into those chairs. A similar concept is used in the design of the Table for Two. It definitely makes it easier to feed the twins.
Quality tables like the Table for Two have bottle holders and all of the inserts of the seats can be removed and washed. These feeding tables are ideal for newborns, and can be used until the children are about eighteen months old.
(NOTE: Still expecting?
Get weekly updates on your twin pregnancy here.)
Twins Feeding Table for Toddlers
When your babies have outgrown the twins feeding table for infants, you will need a new system. Dealing with babies in two separate high chairs is not as easy as it may seem. Cleaning all of the parts of two high chairs after each meal is a chore that no parent enjoys. A twins feeding table for toddlers is much better option.
This is essentially a tabletop with two seats embedded into the structure. The twins are able to sit side-by-side, and the parent is able to sit across from the children to feed them both. The seats of the table are easily removed for cleaning and can even be washed in the dishwasher.
This type of table can easily be used for activities other than feeding as well, and each seat can typically accommodate a child that weighs up to 30 pounds. The legs of the table should be adjustable so that you can raise or lower the table for your comfort when feeding your babies. The table can also be adjusted so that it fits up against your kitchen table or dining table, so that your toddlers feel as though they are always sitting at the "big table."
One downside to this type of table is that you might not have room for it in your kitchen. We used booster seats instead of high chairs to conserve space in our kitchen.
Do I Need Both Tables?
Because having twins means double the work, you should strive to make each task as easy as possible. A twins feeding table will definitely help you with feeding time. These tables aren't cheap, so if I had to choose only one, I'd get the Table for Two to help with infant feedings. By the time your twins are older, they should be fine with a cheaper sitting solution.
You'll find more detail and tips on feeding your twins in in Chapter Four of my book, the Dad's Guide to Raising Twins: How to Thrive as a Father of Twins.