Podcast: Download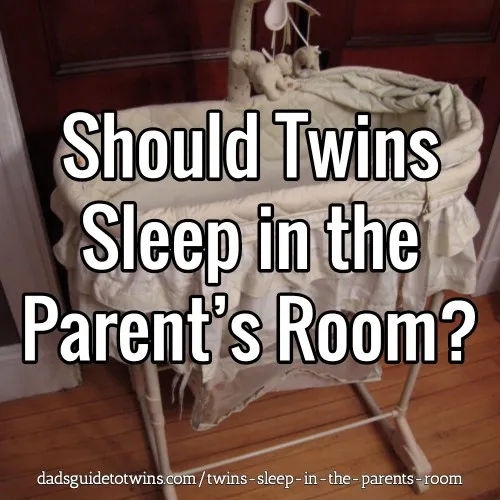 Should your twins sleep in your room when they come home from the hospital? The answer depends on several factors.
Benefits of Having Infant Twins Sleep in the Parents' Room
You may consider having your infant twins sleep in your room for several months. Twin parents will sometimes use a bassinet or Pack-n-Play in their room to sleep the twins. These temporary sleeping quarters won't last forever, but they will serve you and your twin babies for some time.
There are some advantages of sleeping twins in your room:
Easy to access – When your twins are in your room, you don't have to go far to take care of them. This is great during middle-of-the-night, sleep-deprived feeding sessions. You can roll out of bed and quickly pick up a twin and provide the care needed.
Easy to monitor – Since your twins are in the same room, you can easily listen and monitor them for any issues that arise. You don't need an electronic twin baby monitor and can easily roll over and visually inspect the babies to confirm if you really need to get out of bed.
Disadvantages of Having Infant Twins Sleep in the Parents' Room
Impacts your sleep – You will hear every sound your twins make when they sleep in your room. Even benign noises will rouse you from your sleep.
Harder to transition later – Even at an early age, your twins will get used to the patterns you are setting. Eventually they will have to move to their own room. Depending on your kids, this transition may be difficult.
No space for you – I like to think of your bedroom as your sanctuary. With twins, your house will be a mess, and you need some place that is reserved for you to rest and relax.
Current Recommendations
The American Academy of Pediatrics recommends that your twins "share a bedroom with parents, but not the same sleeping surface, preferably until the babies turn 1 but at least for the first six months. Room-sharing decreases the risk of SIDS by as much as 50 percent."
What We Did
We put our twin girls in their own room from the first night we were home from the hospital. Fortunately, their room was right next door to ours. This made monitoring and access a lot easier than if our house floor plan had put greater distance between us.
My wife and I always tried to establish habits and routines that we'd be happy with long-term.
Having the girls sleep in their own room made it easier for us to rest when we did sleep and got them used to sleeping on their own.
You Choose Sleeping Arrangements
You may think that your twins need to sleep in your room. You, as the parent, determine your twins' sleeping arrangements. Not the other way around.
Choose twin sleeping arrangements carefully since this choice will impact both you as parents and the twins.
Picture by Ert