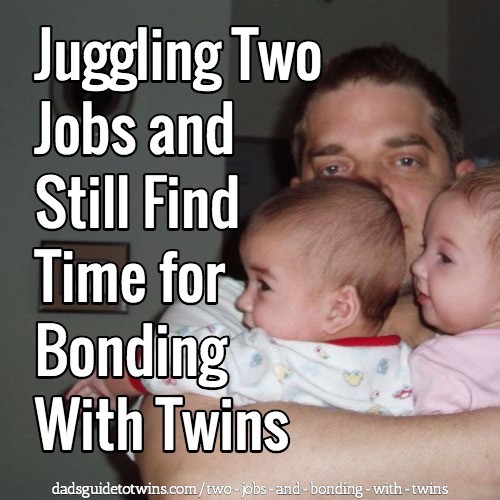 This question comes from a dad who is trying to juggle the realities of life and caring for his family.
He says, "So my wife can stay home with the twins I will be working two jobs. So, I am wondering what I can do in the little time I am there to bond with them. I am scared about having one with this challenge, and now with twins I'm kind of freaking out."
I can fully understand that would be a cause for freaking out. It's not easy to be able to provide for your family, and juggle the demands on the home front and be able to spend time with your twins.
Especially if you work two jobs, it's going to make scheduling extremely crazy.
At Home When Twins Are Awake
Fortunately for you, or maybe unfortunately for you, the first year of twins, the twins are going to be up all times of day, all times of night.
So, regardless of your work schedule, odds are you're going to be home and awake when twins are awake, and you can have an opportunity to interact with them, to care for them.
Focus on Home Time
What I would do is when you leave work and come home, it's home time, family time, undivided attention for the kids. What this means is that you're going to have to put on the shelf any hobbies, or extracurricular activities, or even personal time you may have had before.
It's going to have to be all focused on your family, especially if it is important to you to be able to bond with those twins when you're not working.
When you come home, immediately look for opportunities that you can spend time with your wife and your kids, and how can you help take care of the twins.
Bonding Moments With Twins
Especially when the twins are newborns or infants in their first year, there's plenty of opportunities for you as a dad to be able to help with those responsibilities.
(NOTE: Still expecting?
Get weekly updates on your twin pregnancy here.)
You could be changing diapers, you could be feeding the babies in the middle of the night, or during the day, or depending on your work schedule, you could also help get the kids dressed, or get them ready for the day.
If you have opportunities to go out and run errands with your family, that's another chance that you could have to bond with your twins.
Bonding is Possible
Yes, it is a challenge. Juggling two jobs, and two new twins in the household is going to be a monster of a responsibility, but it is doable as long as you are able to clearly divide your attention between work and home.
When you're at home, you're home with the twins and looking for opportunities to spend as much time with them. Even if it's as simple as holding them in your arms, feeding them, reading to them, or tucking them in at night.
As a dad, I really enjoyed helping the kids get ready for bed at night — giving them baths, getting them in their pajamas, and sending them to bed at night. This is something I really enjoyed, that opportunity to bond with them on a one on one basis.
This question was originally addressed on the Dad's Guide to Twins Podcast episode 19: Twin Birthdays, Bonding Time, Twin Dad Groups.
Picture by Jim Parker.

Further Reading