The time may come when one of the twins is no longer interested in breastfeeding, or perhaps has dietary restrictions and they are already on formula of some kind. What do you do when you are weaning only one twin? How do you do that? What do you do with a non-breastfeeding twin?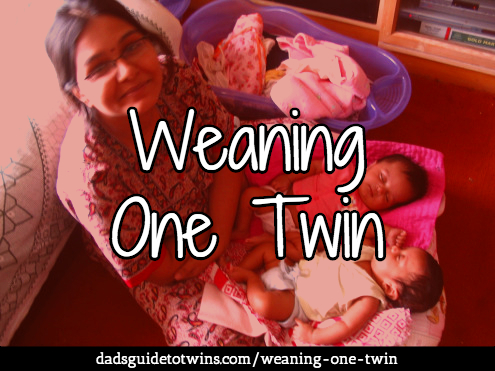 There are some logistical challenges when you are weaning just one twin and not the other. However, it is possible.
Feeding Times
At bedtime, feed the weaned child first and put her down for bed, then you can breastfeed the other.
During daytime feedings, keep your weaned child close and drinking from a bottle, which could be formula or expressed breast milk, while you breastfeed the other. Typically, when you wean your child, they are old enough to hold their own bottle, and can lay or sit by you on their own. You probably still want to be close and not distance yourself from your weaned child during feeding time.
Have an alternative activity for the weaned child. You could read to him or let him play with toys to keep him busy.
Dad's Role
When both mom and dad are home, this becomes a little easier. Mom can breastfeed the one child, and dad can bottle feed the other.
As a dad, when you are home, be conscious of this situation when one child is weaned and the other is not. You can be a huge help at assisting mom with the weaned child while she takes care of the child that is still breastfeeding.
Return of the Weaned
A weaned child may show interest in nursing again, and that is okay. Keep in mind that this is a possibility, and do what is best for your child and for your family.
This topic was originally addressed on the Dad's Guide to Twins Podcast Episode 80: Weaning One Twin, Carrying Twins Solo, Your Other Child.
Picture by Ankur