Your twins will go through diapers at a rate that will surprise you.
"Didn't we just buy a box of diapers?" you'll ask, surprised when you see your stock running low. (The answer is always "yes," by the way.)
One of the challenges of diapers is knowing when to move up to the next size.
Follow the Instructions
Each size diaper corresponds to a weight range to help you know what size to buy for your babies. You'll find this on the diaper box or package.
What you may not realize is that there is about a two-pound overlap between sizes. So you don't necessarily need to max out the weight range on one size before moving up to the next size.
According to this Diaper Fit Guide, these are the size ranges you can expect from diapers:
Newborn: up to 10 lbs (4.5 kg)
Stage 1: Up to 14 lbs (6.4 kg)
Stage 2: 12 – 18 lbs (5.4 kg – 8.2 kg)
Stage 3: 16 – 28 lbs (7.3 kg – 12.7 kg)
Stage 4: 22 – 37 lbs (10 kg – 16.8 kg)
Stage 5: Over 27 lbs (12.2 kg)
Stage 6: Over 35 lbs (15.9 kg)
Watch for Blow Outs
So how do you know when the time is right? The solution is simple:
When your twins start having blowouts and leaks on a frequent basis, it is time to move up to the next diaper size.
This may seem obvious, but in practice, it is not.
Your twins will have a poop that overflows the diaper and you'll be so busy cleaning it up that you won't see the pattern that is emerging.
If you hear yourself saying any of these things, it may be time to change diaper sizes:
"Again! She had a blowout yesterday…"
"What? Another blowout?"
"Why does she keep overflowing her diaper?"
"I really hate cleaning out these poopy clothes!"
Once you start to see multiple blowouts and on a recurring basis, go ahead and buy the next size diapers.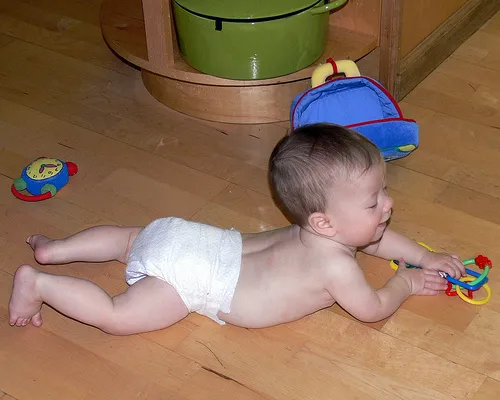 Diapers Too Small?
If you're struggling to get the diaper on your babies or they have perpetual red marks around their waste, it is likely time to move to the next size up.
Remember that as babies grow, so does their pee and poop output. If you leave them in a diaper that is too small, it won't do its job as well as a properly fitted diaper.
Got Extra Diapers?
What if you still have a stack of the current size diaper?
Two solutions: use them on the other twin or give them away.
One of our girls seemed to be having the blowout problem more than her sister. So we moved up a size on one girl and not the other.
If both your twins are ready for the upgrade but you still have leftover diapers, don't worry: diapers make great gifts for other parents-to-be. Yes, even opened packages! You just don't have to wrap those ones up. The cost of diapers helps parents appreciate any free diapers they can get (even an opened package).
Too Big?
What if we move up a size and the diapers are too big?
Don't let the "too big" possibility stop you from proceeding. Even if they don't fit today, your twins will keep growing and they can start wearing them in the near future.
I will say, that with our four kids, we've never had the problem of poop leaving a diaper that was too big.
That's a Lot of Money
Why do diapers cost so much?
Short of changing professions or buying stock in Pampers or Huggies, you may just have to accept the fact that someone's getting rich at your expense. Diapers are one of the financial curses of twins. Go get yourself a Costco membership and you can save on the diapers.
Cloth diapers can also help reduce your expense over the long term. There will be a higher initial cost but that averages out as you reuse the diapers. There are local cloth diaper services that even handle the cleaning and supplying fresh diapers. Just watch your costs or you might be paying more than disposable diapers.
I talk more about diapers and caring for your twins' potty needs in Chapter 12 of my book, the Dad's Guide to Raising Twins: How to Thrive as a Father of Twins.
Pictures by Jessica Merz and makelessnoise