One question I got this week was about nap time with twins. Where should you put the twins? Say you've got a two-story house, and the twins' bedroom is on the other story. You want to spend the daytime on the main level. How can you put them down for a nap on the main level so you don't have to run up and down the stairs to keep an eye on the twins? Is the Pack 'n Play even an option?
Using a Pack 'n Play for Nap Time
In our home, we have a one-level home. When it's nap time for our twins, we just put them in their bedroom to sleep. They were in the same crib for the first few months and then separate cribs thereafter. However, a Pack 'n Play is definitely a good investment if you want to have a temporary napping place for your twins.
Some Pack 'n Plays have a bassinet that goes on the top, but those have a weight limit, so your twins are not going to be able to sleep in those forever. We've had both of our twins sleep in the bottom, on the main floor of the Pack 'n Play, without any problem. That'll work until they start to get bigger and start to occupy more space and interrupt each other.
A Pack 'n Play is definitely something that you can use. There were only a few times when we needed two Pack 'n Plays, but generally, it was when we were away from home, and it was fairly easy to borrow a second from a friend or family member. So don't feel like you need to purchase two Pack 'n Plays right away just for nap time, unless you have the money and the space to store and use both of them.
Separating Twins for Nap Time
If it doesn't work to have the twins nap together in their bedroom, and use a baby monitor to keep track of them, you can put them in a Pack 'n Play in a corner of a room, of a family room or an office closer to where you're working on the main level of the home.
We went through a period of about a year where the twins needed to be separated during nap time because they would talk to each other and they would babble and play in their room, even though they were in separate cribs, instead of actually napping. And so, we were able to put one of our girls into her crib in her bedroom and the other girl in a Pack 'n Play in our master bedroom to keep them separated so they could calm down and go to sleep.
With a Pack 'n Play, you should be able to tuck a Pack 'n Play into a corner easily within reach so they can have a quiet place to rest for nap time. Ultimately, you might need two Pack 'n Plays or two different rooms where the twins can sleep in because they will keep each other awake during nap time.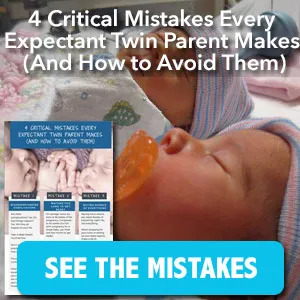 This question was originally addressed on the Dad's Guide to Twins Podcast episode 33: Nap Locations, Involving Grandparents, Twin Potty Training Struggles.
Picture by Catherine Scott
Need more help sleep training your twins? Check out this step-by-step guide to sleep training twins from fellow parent of twins, Nina Garcia: