When your twins are ready to start eating solid foods, you'll need somewhere for them to sit.
Traditionally, this means buying high chairs.
Since you've got twins, you are already used to unconventional methods, so here is another tip:
Buy booster seats that fit on your normal kitchen chairs instead of buying high chairs.
Eventually your kids will need booster seats anyway. So if you skip the high chairs, you save money and can use what you buy for a longer period of time.
High chairs are great when you have one baby at a time. However, with twins, here is why you want booster seats instead of high chairs:
two booster seats are cheaper than two high chairs (and many times even cheaper than ONE high chair!)
two booster seats take up less room in your dining area than two high chairs
high chairs have more surface area to clean than booster chairs
you can leverage the chairs you already have in your kitchen with booster seats
booster seats are easier to transport if you need to eat at Grandma's, a friend's, or if you take a road trip–anytime you are away from your kitchen for a meal
We purchased some Fisher-Price Healthy Care Booster Seats and have loved them. We covered our existing kitchen chairs with a towel and then put the booster seat on top.
The seat's tray can easily be washed by hand or stuck in the dishwasher.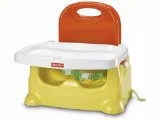 The hard plastic seat can easily be wiped down. When too much of a mess built up on the towel under the chair, we simply swapped it out, threw it in the wash, and put a new towel in place.
Another advantage of buying booster chairs instead of high chairs is that you'll save money. Saving several hundred dollars for baby seating is totally worth it.
Here are the booster seats that worked great for our family.
If you're looking for a dedicated twin high chair you might consider the Table for Two while your babies are little.
I talk more about feeding solids to your twins in Chapter Four of my book, the Dad's Guide to Raising Twins: How to Thrive as a Father of Twins.