Podcast: Download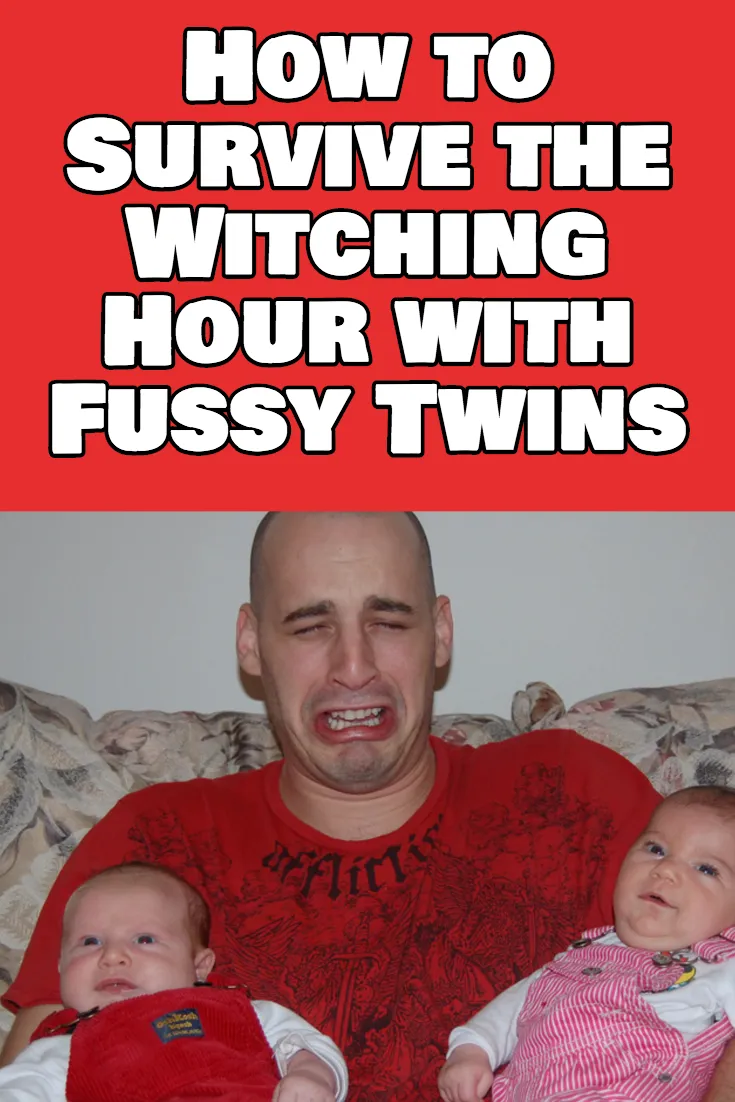 Do your twins turn into cranky beasts sometime between dinner and midnight each evening?
If so, you're not alone. This "witching hour" is very common with children. Your twins are no exception and will give you double the fussy mess.
Ironically your twins may be angels all day and still revert to super fussy handfuls after 5:00 PM.
The witching hour is most typical with newborns and infants but can stretch into toddler ages and beyond.
Why do kids get so fussy at the end of the day? Let's look at some possible reasons:
Over Stimulation
Over stimulation from a full day can really wear your twins down by evening.
Your children are worn out and tired. However, they find themselves too tired to self soothe and fall asleep without your personal attention.
Physically Uncomfortable
Your twins may be suffering from reflux or gas. Either of these can cause great irritation and discomfort for your children. When in doubt, burp them an extra time after a feeding.
Infants may be suffering from colic where they are simply inconsolable for several hours.
Hungry?
Feed your twins if you think they are just "hangry" (hungry + angry). Monitor the amount and timing of feedings so you will notice if they are not getting enough to eat.
Tired?
Make sure your twins are taking regular naps during the day. They will sleep best at night if they are getting the rest they need during the day.
Soothing
A key to surviving the witching hour is to soothe your twins. There are several ways you can do this based on the age of your children.
Use a pacifier to soothe. The sucking motion of the pacifier will satisfy many a child.
Have you heard of the 5 S's? We had great success with the principles from The Happiest Baby on the Block and the 5 S's: sucking, swaying, swaddle, side/stomach, and shushing.
Try each "S" in order and you'll likely calm down your child before you go through all five. If not, keep repeating until they relax.
Use a baby swing to gently sway your children and help them relax. Remember, it is perfectly fine to help one twin at a time when you're by yourself.
When you can't let your twins' fussiness totally stop your plans for the evening, try wearing your twins around the house or when you're out running errands. The constant motion and close snuggle to you will help soothe a crying child (or both).
Go for walk with the kids. Load up the babies in the stroller and walk around the block. The change of scenery and fresh air will be good for everyone.
Here are 40 more ways to soothe a fussy baby.
Comfort in Schedules
Stick to a routine so your children know what to expect. Your babies will go through the E.A.S.Y routine discussed in the Child Whisperer book. They will eat, have some activity time, sleep, and then you'll get some time for yourself. Use that pattern to determine what your babies should be doing next and for indications of why they might be cranky.
Your twins will thrive when they have a regular evening and bedtime routine. This consistency helps them wind down at the end of the day.
Plan for Crazy
If you're seeing your twins go nuts during the witching hour each night, make sure you plan for that eventuality so you don't get knocked out.
Prepare meals ahead of time by batch cooking earlier in the week, using freezer meals, or using a slow cooker so dinner is easier to get ready each night.
Work to Home Transition
Give yourself time to transition from work to home. This will make sure you're mentally ready to tackle fussy twins and a household of crazy.
When coming home from work, take some time to spend with your kids. They want your attention! It is tempting to jump right into dinner preparations or chores around the house. However, make sure you spend some time with your children as they haven't seen you all day!
Divide up responsibilities with your spouse. One of you can prepare dinner and the other handles the kids. I'd recommend you rotate these responsibilities so each of you get time with the kids.
Mentally Strong
The witching hour can wear you down very quickly. Don't take it personally. Your twins aren't out to get you.
Remember: this is a phase and will end. Hang in there!
Original photo by Joshua Bloom