I have been compensated by Weego for this post; however, I am sharing my own thoughts. All opinions are my own.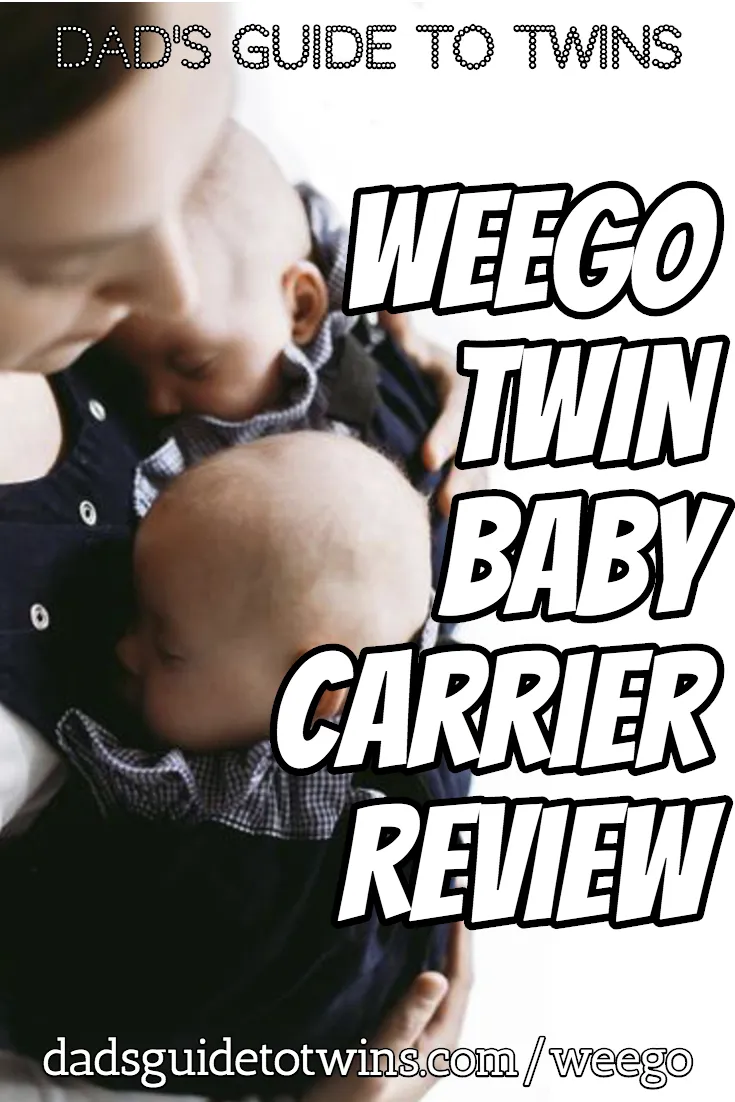 When our twin girls were infants, we loved to carry them around. Having them close by was both comforting to them and soothing when they were cranky. Plus it freed up our hands to work on other things. Babywearing for the win!
Unfortunately, when our girls were babies, we only found baby carriers that allowed us to carry one baby at a time.
The good news for you is that now there is a great option for wearing both your babies on your front so you can see and care for them easily.
The Weego TWIN Baby Carrier is an innovative solution to carrying both your twins while keeping your hands free.
There is just some magic with baby wearing that immediately soothes and calms fussy twins. This is a huge lifesaver for twin parents like us.
(NOTE: Still expecting?
Get weekly updates on your twin pregnancy here.)
Weego sent me one of their Weego TWIN Baby Carriers to review.
Weego Twin Carrier Review
The Weego TWIN Baby Carrier folds up very compact and is easy to store. In fact, when it arrives, it comes in a very tidy canvas bag:
The Weego Twin carrier package comes with the carrier, some burp cloth attachments, and instructions on how to adjust and wear the carrier:
The Weego TWIN Baby Carrier is made from sturdy and durable fabric. At its core, it has two containers on the front, one for each baby:
The back of the carrier is what rests against your chest. Here you see the shoulder straps with securing straps that go across your back, plus the belt with a buckle that fits around your waist. These help keep the carrier firmly attached to you and distribute some of the twins' weight.
When you open one side of the Weego TWIN Baby Carrier, you'll see that each twin pouch is really two pouches in one. An inner pouch is used to securely hold the baby. Each twin will sit in one of these inner pouches with a leg on each side. A great thing about these inner pouches is that they support the babies' backs and on the sides – preventing the spine from tipping sideways.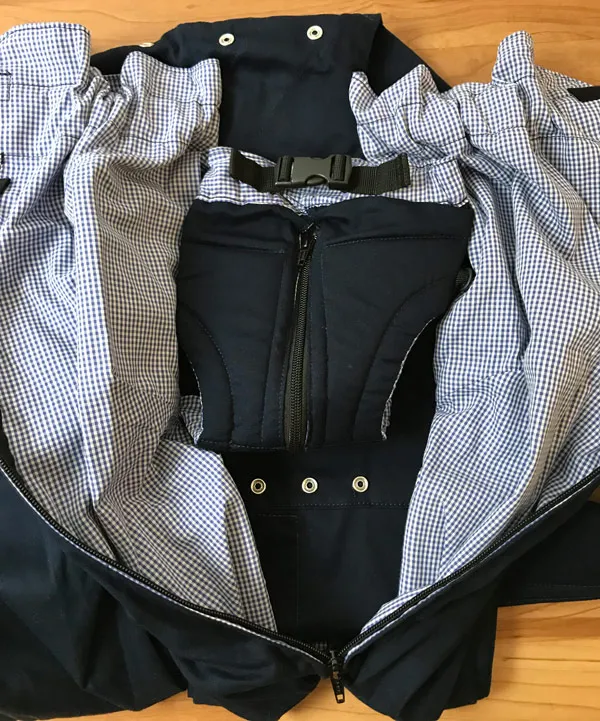 The rows of metal snaps allow you to adjust the position so as each child grows you can move the inner pouch to accommodate that growth. This way, the outer pouch will always be at the correct place to best support your babies' heads.
Who fits in the Weego TWIN Baby Carrier?
The Weego TWIN Baby Carrier weight limit is a maximum of 33 pounds (15kg) combined weight of your twins. The carrier is designed to be used for twins that weigh at least 4 pounds (1.8kg) each.
This means that most newborn twins can go straight into this carrier and you'll be able to wear them until the 33lb Weego Twin Carrier weight limit is reached, or when they feel too heavy to carry, which usually occurs around 6 months of age. The head support of the carrier allows use even if your babies can't yet hold up their heads.
This carrier is designed for use on your front with each child facing you. Only adults should wear the carrier and you always need to wear it with both twins, otherwise, you'll have things lopsided and not as safe and secure as you need.
Even if your twins are different sizes, this carrier will adjust to fit them (see details below).
How to Use the Weego TWIN Baby Carrier
Typically you'd get the carrier on first, and then pick up each twin and get her secured in the carrier (see video below), but to get a close-up view of how things work, here are some example pictures.
First, you'll open both the outer and inner pouches. While supporting your child, lean them against your chest slightly above the inner pouch. Work each leg into the slots and then velcro and snap at the top of the pouch. Then zip up the inner pouch.
Once your baby is secure in the inner pouch, velcro and buckle the outer pouch around their head. This outer pouch supports baby's head and shields their body.
Zip up the outer pouch of the Weego TWIN carrier and you're done with this baby. This combination of inner and outer pouches creates a very cozy pocket for each of your twins to hang out while you carry them. Plus the outer pouch deflects prying eyes and fingers of random strangers that want to touch your babies.
You'll wear your babies high on your chest. The best way to see if they are high enough is to see if you can kiss them on the head.
Once one baby is secure, you'll be ready to repeat the process with the next twin.
Here's a great Weego TWIN Baby Carrier video from a twin mom showing how she gets her twin boys in and out of the carrier:
Two bonus features on the Weego TWIN Baby Carrier make life with infant twins a little bit easier.
First, each side of the carrier has a leash for pacifiers. This loop will keep your twins' pacifiers or toys from constantly getting lost or falling on the floor:

Secondly, the Weego TWIN Baby Carrier comes with a set of bibs that snap on to the top of the carrier where your twins' drooling and spit-up prone faces rest. This way you can swap out the bib and wash it without having to wash the entire carrier every time your twin makes a mess (which we all know they tend to do regularly):
Overall I think this carrier's design is pretty cool and I wish we had something like this when our twins were infants.
Get Your Weego TWIN Baby Carrier
You can order your own Weego TWIN Baby Carrier directly at http://www.weego.com. They have a couple of different styles to choose from and ship worldwide. You won't find the Weego TWIN carrier on Amazon. Make sure you grab the Twin Weego carrier and not the original Weego baby carrier that is just for one child.